Our website is not currently accurately reflecting our inventory.
Please email us at info@wordfaterwordbooks.com or call us at 530-536-5099 to inquire about avaliability.
Vulgar & Obscene Christmas Coloring Book: Adult Coloring Book With Funny Shocking Festive Curse Words and Dirty Holiday Swearing Phrases for Those Who (Paperback)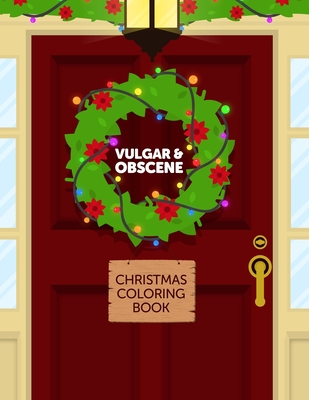 $7.99

BACKORDERED - Email or Call For Availability
Description
---
WARNING: EXTREMELY OFFENSIVE
CHRISTMAS HOLIDAY ADULT SWEAR WORD COLORING BOOK

Are you looking for an excellent gag gift or something you simply can't find in stores? If so, this book is for you Loaded with vulgar and offensive words and sayings that simply can't be said out loud, so they must be colored The Vulgar & Obscene Christmas Coloring Book is a unique collection of 25 uncensored holiday themed adult curse words and phrases coloring pages for you to use to relieve stress and relax.
Artist Beware You might think that you have a filthy mouth and mind, but wait until you see how shocking and horrible these coloring pages are. Try not to blush
This coloring book is filled with mesmerizing Christmas characters, shapes and designs to help reset when assholes and jerkoffs that don't have the Christmas spirit try and ruin your day. It is also a perfect gift for your foul-mouthed friends or family.
Each coloring page is one-sided so you don't have to worry about ruining the back side of your coloring pages. There is a variety of original designs and sayings from simple and easy to intricate and challenging for all skill levels or to suit your mood. Color your way to less stress Color to your fucking hearts content
Over 20 New Collections of Unique Hand Curated Designs To Color
Dozens of inappropriate Christmas swear words and phrases coloring pages designed for adults
Fun Christmas characters, shapes and mandalas to color
Each coloring page is designed to help you relieve stress and promote relaxation
The variety of pages ensure there is something for every skill level
Your choice of coloring tool can be used (Pens, Pencils, Markers, Crayons etc)
Each coloring page is printed on a separate sheet to avoid bleed through
CONTAINS ADULT LANGUAGE. NOT INTENDED FOR CHILDREN.