Welcome to Word After Word Books!
Coloring Book Jungle Animal For Kids Ages + 3: Coloring Pages and Sketchbook For Children (Paperback)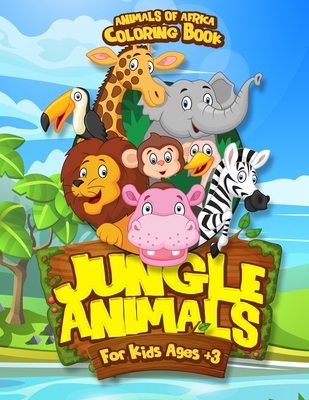 $9.97

OUT OF STOCK - Available to order
Description
---
This book is packed with pages featuring monkeys, lions, elephants and more fun jungle creatures to color and draw. Jungle Animals will quickly become any kid's new favorite way to get creative
The Animals Of Africa Coloring Book Series is proud to take young readers on a journey to see the animals of the beautiful continent of Africa. From air to land to sea, take time to enjoy the exotic wildlife
Each illustration depicts a striking scene that's appropriate for any age. We also thoughtfully designed the book to allow readers to create their own drawings beside each of ours.
There's no limit to the hours of creative fun you can have when you unleash your creativity
★ Featuring ★
✓ Perfect BIG 8.5 x 11 size
✓ Coloring pages featuring Elephants, Monkeys, Lions, Birds, Tigers, Hippos and more
✓ Alternating sketchbook pages to allow kids to draw their own animals
✓ Crisp, clean white pages on thick coloring paper
✓ Perfect for use with crayons, colored pencils or markers
✓ Strong binding
✓ Bordered pages for easy removal or framing.
✓ Owner page for child to write their name and take credit for their art
Printed by American Educators Press