Welcome to Word After Word Books!
From Indus to Independence: A Trek Through Indian History Volume IX: Har Har Mahadev: The Maratha Dominance (Paperback)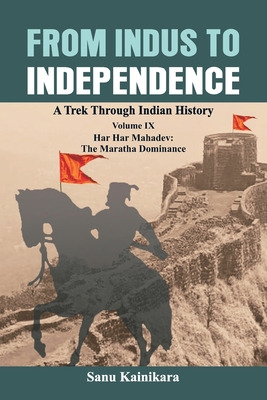 $65.00

OUT OF STOCK - Available to order
Description
---
This is the ninth volume of the series on Indian history with the generic title, From Indus to Independence: A Trek through Indian History and provides a historic narrative of the rise, decline and eventual fall of the great Maratha Empire through the 17th and 18th centuries. The book analyses the origins of the Marathas, their rise to power and the period of what could be called 'The Maratha Dominance'.
The arrival of Islam into the Deccan Plateau and South India coincides with the recognised rise of the Marathas as fearless and stubborn warriors. The early Maratha chiefs contributed to the military prowess of the Shahi kingdoms of the Deccan and their opposition to the Mughal invasion, conspicuous for their valour and loyalty. This volume describes in detail the early years and coming of age of Chhatrapati Shivaji Maharaj, the founder the what later came to be called the Maratha Empire. His daring exploits and the vision that he had of establishing a Hindu kingdom for the emancipation of the Hindu population are explained in full.
The rule of the Peshwas and continuing rise of the Maratha Empire to it halcyon days between 1720 and 1755 are chronicled in detail. The Battle of Panipat, fought and lost in 1761, is analysed before the volume looks at the onset of decline and the fundamental causes that created strategically unsound circumstances from which the Empire could not recover. The role of the English East India Company in finally breaking up the Empire is studied, and their duplicitous nature underlined. The book provides the reader with an in-depth understanding of the changed circumstances in Indian history with the arrival of European powers into the sub-continent.