En busca del río sagrado: Las fuentes del Nilo (Descubridores del mundo) (Paperback)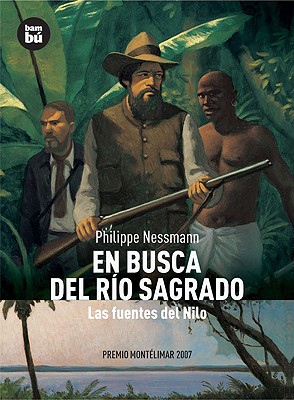 $12.95
Email or call for price.
Description
---
In this series of titles for young adults, the historical deeds of some of the world's best-known adventurers are presented in novel format. Each book contains a photographic documentary that prolongs the adventure.
Zanzibar, 1857: no one has yet been able to find the source of the sacred Egyptian river, the Nile, but two adventurers, Richard Burton and John Speke, accompanied by an old slave, Bombay, take up the challenge and enter the heart of Africa, braving suffocating jungles, hostile natives, and tropical diseases during their journey.
En esta serie de títulos para adolescentes, los hechos históricos de algunos de los más reconocidos aventureros del mundo están presentados en formato de novela. Cada libro contiene un cuaderno de fotos para prolongar la aventura.
 Zanzíbar, 1857: hasta ahora nadie ha conseguido descubrir donde nace el río sagrado egipcio, el Nilo, pero dos aventureros, Richard Burton y John Speke, acompañados de un antiguo esclavo, Bombay, aceptan el reto y se adentran en el corazón de Africa, desafiando por el camino selvas sofocantes, fieras salvajes y enfermedades tropicales durante su viaje.
About the Author
---
Philippe Nessman is an author of books for young adults and the editor of a nonfiction imprint of the French publisher Mango.
Praise For…
---
"Historic; it leaves you slack jawed." —Le journal de Mickey, on the French-language edition "The description of the characters is so expert that they seem like flesh and bone. The story is very well-written. We held our breath until the last page." —Lire Junior, on the French-language edition "A photographic documentary in the middle of the book perfectly complements the adventure." —Crokalire, on the French-language edition