Word After Word Books and Rock Cellar Records
are located in historic Downtown Truckee.
What's in It for Me? (Paperback)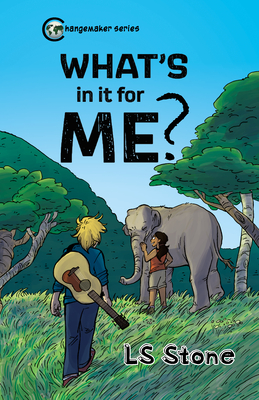 $13.95

OUT OF STOCK - Available to order
Description
---
What's in it for Me? - Summer is only a month away, but things aren't going according to plan for fifteen-year-old Nick Bannerman. Nick dreams of making it big in music, and summer means scoring a deal for his band, mega parties, surfing in Tofino--and not much else. His best friend, Trevor, wants him to spend the summer with him in Africa building a school with a changemaker organization, but Nick isn't at all interested. Unlike Trevor, Nick has no interest in global activism, volunteering, or physical labour. So how does a teen like Nick, intent on being a famous rock star, end up in Thailand volunteering at an elephant refuge?
Meanwhile, in glimpses from Africa, Trevor learns about Kenyan culture and language from twelve-year-old local boy, Kito, and encounters child soldiers who threaten the young boy's family.
Back at the refuge, Nick meets sixteen-year-old Camila, an intimidating and self-assured local girl who wants to be a mahout, even though local tradition won't allow it. When Nick encounters an extreme animal rights activist, drugged tigers, and rampaging elephants, will he have the courage to act and care about more than just himself?
With themes of: elephants, global activism, animal rights and welfare, social activism, volunteering, feminism and female empowerment, coming of age, and the complex and controversial topic of elephant captivity, What's in it for Me? is an excellent middle-grade novel to spark classroom discussions. Teacher resources available on publisher website: rebelmountainpress.com/whats-in-it-for-me-teacher-resources