Iona Iverson's Rules for Commuting: A Novel (Hardcover)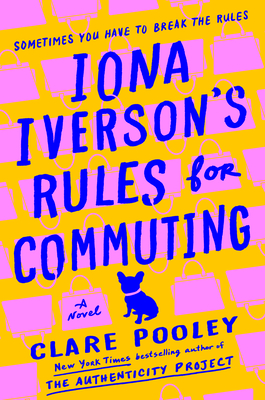 $27.00

OUT OF STOCK - Available to order
Staff Reviews
---
Pooley really leans into her characters, lead by the quirky and confident Iona Iverson, the train gang are a group of normal people who all take the same train to Waterloo and find themselves pulled into her orbit. Great warm-fuzzy feel good vibes, perfect for readers of Backmann or those looking for the elusive light-but-not-fluffy read.
— From
Fiction Picks
June 2022 Indie Next List
---
"Everyone knows that you keep to yourself on a train. But Iona draws people like moths to a flame; suddenly she has the interest of her entire train car. A nice pocket of reality with vivid characters that you'll root for and want to take home."
— Jennifer Jones, Bookmiser, Roswell, GA
Description
---
Nobody ever talks to strangers on the train. It's a rule. But what would happen if they did?

From the New York Times bestselling author of The Authenticity Project comes an escapist read that will transport you, cheer you, and make you smile—and make you, too, wish you had Iona's gift for bringing out the best in everyone.

"A not-to-be-missed read in the mode of Gail Honeyman's Eleanor Oliphant Is Completely Fine." —Booklist, starred review


Every day Iona, a larger-than-life magazine advice columnist, travels the ten stops from Hampton Court to Waterloo Station by train, accompanied by her dog, Lulu. Every day she sees the same people, whom she knows only by nickname: Impossibly-Pretty-Bookworm and Terribly-Lonely-Teenager. Of course, they never speak. Seasoned commuters never do.
Then one morning, the man she calls Smart-But-Sexist-Manspreader chokes on a grape right in front of her. He'd have died were it not for the timely intervention of Sanjay, a nurse, who gives him the Heimlich maneuver.
This single event starts a chain reaction, and an eclectic group of people with almost nothing in common except their commute discover that a chance encounter can blossom into much more. It turns out that talking to strangers can teach you about the world around you--and even more about yourself.
About the Author
---
Clare Pooley graduated from Cambridge University, and then spent twenty years in the heady world of advertising before becoming a full-time writer. Her debut novel, The Authenticity Project, was a New York Times bestseller, and has been translated into twenty-nine languages. Pooley lives in Fulham, London, with her husband, three children, and two border terriers. Iona Iverson's Rules for Commuting is her second novel.
Praise For…
---
Praise for Iona Iverson's Rules for Commuting:

"A really lovely story that just hit the spot."
—Linda Holmes, New York Times bestselling author of Evvie Drake Starts Over and Flying Home

"Clare Pooley is the master of writing an ensemble cast. This book tackles so many interesting themes, all with Clare's trademark humour, wonderful writing, and vibrant, loveable characters - Feel good fiction at its best. It almost made me miss the commute."
—Sophie Cousens, New York Times bestselling author of Just Haven't Met You Yet

"Sunny, funny and full of heart."
—Nita Prose, #1 New York Times bestselling author of The Maid

"A glorious triumph of a novel; warm, funny, and moving, with an unforgettable cast of characters."
—Rosie Walsh, New York Times bestselling author of The Love of My Life

"A hilarious and sweet creation about a group of individuals who form a family with love at its core."
—USA Today

"Endearing and quirky, this novel might make you actually want to commute."
—New York Post

"It's a buoyant, bright, occasionally brash novel that's equal parts funny and poignant….By rotating readers through the thoughts, hopes, anxieties, and vanities of her diverse cast, Pooley explores the complicated lives under the façades they present – and the need to replace judgment with a willingness to allow others to reveal themselves. 'Be more Iona,' Sanjay urges himself at one point. By the novel's heartfelt end, they're words to live by – whether you commute or not."
—Christian Science Monitor

"A poignant, funny delight....This entertaining novel reminds us that people are seldom who we think they are at first glance, and that community can be found just about anywhere."
—Minneapolis Star-Tribune

"[A] joyous tale about serendipitous friendship and seizing each day with vigor. The epitome of a feel-good book that is also laugh-out-loud hilarious…In a time when our differences so often divide us, Pooley's novel is like a reassuring hug, assuring readers that our differences can strengthen relationships and should be embraced and celebrated. A not-to-be-missed read in the mode of Gail Honeyman's Eleanor Oliphant Is Completely Fine."
—Booklist, starred review

"A soothing story where bad things happen yet are overcome, and friendship leads the way to personal acceptance and rebirth."
—Kirkus

"Pooley delivers not only acerbic, enchanting Iona but a compelling, tangled cast of quirky, complicated characters so engaging, it's enough to make you miss crowded commuter trains."
—Laurie Frankel, New York Times bestselling author of One Two Three

"Heartwarming, funny, a delicious dive into the profound and ridiculous modern world in which we live.  Clare Pooley reminds us why we need each other."
—Tara Conklin, New York Times bestselling author of The Last Romantics

"Clare Pooley has found a delightful way to bring home the point that we need each other."
—Kelly Corrigan, New York Times bestselling author of Tell Me More

"Why don't I ever meet people this delightful on a train? This feel-good ensemble story will bring joy to readers who loved Anxious People and Eleanor Oliphant Is Completely Fine—not to mention fans of quirky London-set fare such as Ted Lasso. Iona Iverson's Rules for Commuting is a warm, fun pick-me-up of a book."
—Mary Laura Philpott, bestselling author of I Miss You When I Blink and Bomb Shelter

"Iona Iverson is nothing short of sheer and utter delight. It presents the best of humanity--the sweet and bashful kindness and generosity that lives in all of us. I can't think of a more joyful book and will be buying copies for everyone I know!" 
—Jesse Q. Sutanto, bestselling author of Dial A For Aunties

"Pooley's grasp on the constraints and longings of the human condition proves immensely entertaining. Readers will be charmed by this uplifting, hopeful story rife with tender insights. Traveling with Iona Iverson is a literary journey well worth taking!"
—Shelf Awareness

"Very funny and utterly uplifting...Iona Iverson is an absolute delight, and one of the best characters since Eleanor Oliphant."
—Freya Sampson, bestselling author of The Last Chance Library

"Insightful, funny and full of warmth and relatable characters. A brilliant read."
—Sarah Morgan, bestselling author of Beach House Summer

"It made me cry, made me cackle—a first-class journey. Just wonderful."
—Beth Morrey, international bestselling author of The Love Story of Missy Carmichael

"I have enjoyed every minute of this marvellous story. A gloriously entertaining and completely addictive read. Iona Iverson's Rules for Commuting will be sure to steal your heart. Clare Pooley's writing is astute, wickedly funny, clever and charming. I adore this book."
—Hazel Prior, author of Ellie and the Harpmaker

"A delightful story about connection and friendship in a disconnected world."
—Marianne Cronin, author of The One Hundred Years of Lenni and Margot

"This utterly joyful novel takes you on an unforgettable journey with characters you wish you could meet in real life. Who knew commuting could be so enjoyable? It's a book to make you miss your stop. I loved Iona Iverson's Rules for Commuting even more than The Authenticity Project—it's glorious."
—Eva Carter, author of How to Save a Life