Welcome to Word After Word Books!
Tread of Angels (Hardcover)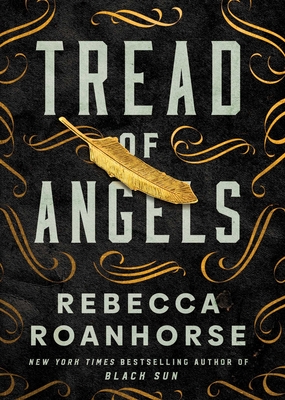 $22.99

OUT OF STOCK - Available to order
December 2022 Indie Next List
---
"At this point, I'll read anything Rebecca Roanhorse writes. This little book packs a powerhouse of a story! It's 1920s noir with demons and angels, but with Rebecca's personal twist. I loved it and I can't wait to give it to everyone I know!"
— Annie Carl, The Neverending Bookshop, Edmonds, WA
Description
---
Celeste, a card sharp with a need for justice, takes on the role of advocatus diaboli, to defend her sister Mariel, accused of murdering a Virtue, a member of the ruling class of this mining town, in a new world of dark fantasy from the New York Times bestselling author of Black Sun, Rebecca Roanhorse.

The year is 1883 and the mining town of Goetia is booming as prospectors from near and far come to mine the powerful new element Divinity from the high mountains of Colorado with the help of the pariahs of society known as the Fallen. The Fallen are the descendants of demonkind living amongst the Virtues, the winners in an ancient war, with the descendants of both sides choosing to live alongside Abaddon's mountain in this tale of the mythological West from the bestselling mastermind Rebecca Roanhorse.
About the Author
---
Rebecca Roanhorse is the New York Times bestselling author of Trail of Lightning, Storm of Locusts, Black Sun, and Star Wars: Resistance Reborn. She has won the Nebula, Hugo, and Locus Awards for her fiction, and was the recipient of the 2018 Astounding Award for Best New Writer. She lives in New Mexico with her family.
Praise For…
---
"Rebecca Roanhorse… [is one] of the Indigenous novelists reshaping North American science fiction, horror and fantasy — genres in which Native writers have long been overlooked."
— The New York Times

"Readers are in for intricate world-building, engrossing adventure and stunning backdrops."
— The Washington Post

"The pages turn themselves. A beautifully crafted setting with complex character dynamics and layers of political intrigue? Perfection. Mark your calendars, this is the next big thing."
— Kirkus, starred review

"A must read for fans of N.K. Jemisin's epic fantasy and those who love George R. R. Martin's Song of Ice and Fire series but want more diverse worlds."
— Booklist

"Roanhorse introduces an epic fantasy with vivid worldbuilding and exciting prose. Readers will be attracted to the story, in which there is no real right vs. wrong. Only inevitable change will draw out the heroes of this imaginative tale."
— Library Journal, starred review

"I emerged from Black Sun bleary-eyed, tongue-tied, heart-swollen. This is a brilliant world that shows the full panoply of human grace and depravity. Rebecca Roanhorse is the epic voice of our continent and time."—Ken Liu, award-winning author of The Grace of Kings, and The Hidden Girl and Other Stories.

"This is the novel I've been waiting for. This is the novel we've all been waiting for. Everything's different now, with Black Sun. Different and better. Stands shoulder to shoulder with the very best fantasy out there. There's Martin, there's Jemisin, and now there's Roanhorse."—Stephen Graham Jones, award-winning author of The Only Good Indians, and Mongrels

"Absolutely tremendous. Roanhorse knocks it out of the park again with an epic tale about duty and destiny that will sweep readers away and broaden the horizons of an entire genre."—S.A. Chakraborty, nationally bestselling author of The City of Brass.

"An intricately layered, sprawling and fabulously dark epic fantasy of political intrigue, power and revenge. Enthralling, beautiful and heartwrenching."—Aliette de Bodard, Nebula award-winning author of Seven of Infinities