Our website is not currently accurately reflecting our inventory.
Please email us at info@wordfaterwordbooks.com or call us at 530-536-5099 to inquire about avaliability.
The Magic of Manifesting: 15 Advanced Techniques to Attract Your Best Life, Even If You Think It's Impossible Now (Law of Attraction #1) (Hardcover)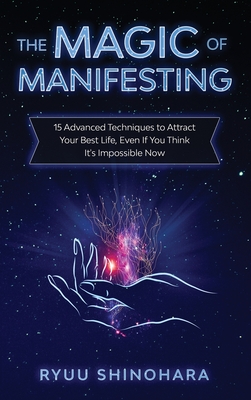 $23.99

OUT OF STOCK - Available to order
Other Books in Series
This is book number 1 in the Law of Attraction series.
Description
---
Why Celebrities Swear by These 15 Powerful Techniques As The Secret to Anything You Want in Life
Do you easily complain or start nagging whenever something isn't going your way?
Do you give fault and make others responsible for your misery?
Are you annoyed looking around seeing others having exactly what you want in life?
Believe it or not, you are the driver of your own life and no one else can steal your seat...if you don't let them.
What if there were straight-forward, easy principles to get everything you want in life?
Maybe you already manifest regularly or you've heard of it, but never consciously tried it. Using manifestation means using the power of your thoughts, feelings, or beliefs to bring something into your physical reality.
At first, it sounds abstract, but science has proven, everything is made of energy: objects, animals, thoughts, and humans.
There are laws that control how this energy flows and where it goes just as there are laws of gravity and laws of growth. The more you know about these laws the easier it is to navigate the energy you need in the right direction.
No wonder that even stars like Will Smith, Jim Carrey, Oprah Winfrey, and Lady Gaga swear by manifestation as the secret to their success.
Jim Carrey makes it sound really simple. He says: "As far as I can tell, it's just about letting the universe know what you want and then working towards it while letting go of how it comes to pass."
Yet, there are reasons why some people are better at manifesting than others.
There are a couple of fundamentals you need to understand in order to apply manifestation effectively. With a little guidance and the right techniques, your best life is waiting for you.
This is only a select sample of what you'll discover in The Magic of Manifesting:
Flap or Fab: Why you should care about manifestation more than you think
The scientific secret behind changing your reality
Why you might be manifesting your misery and how to avoid these common mistakes
The smartest and most powerful way to attract anything you want in life
How scientists manipulate your life with one particular weakness that outweighs all of science's strengths
Is everything connected? Essentials about energy, flow, and connection
Why your ego is the enemy and what you can do about it
15 techniques to guarantee your manifestation success story
The #1 mental exercise Olympians and star athletes practice daily to increase their performance
Intention vs. goals: The major difference and which is best to achieve success in life
The biggest money lie revealed and how to create true abundance
Warning Signs that you have a scarcity mindset and how to get rid of it
And much more.
If you think "manifesting" is just another 2021 buzzword, then you haven't heard the success stories of millions of people who made their dreams come true with this one powerful tool.
Stop waiting for life to happen to you and start creating your best life right now.
If you want to effortlessly get what you want, scroll up and click on "Buy now with 1-Click".