Our website is not currently accurately reflecting our inventory.
Please email us at info@wordfaterwordbooks.com or call us at 530-536-5099 to inquire about avaliability.
Sacred Sendoffs: An Animal Chaplain's Advice for Surviving Animal Loss, Making Life Meaningful, and Healing the Planet (Paperback)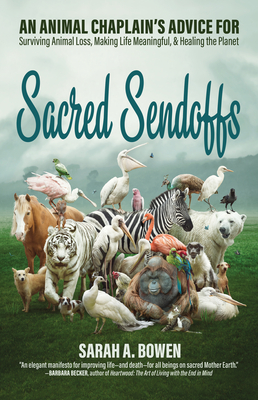 $16.95

OUT OF STOCK - Available to order
Description
---
Author has developed a strong platform since the launch of Spiritual Rebel. She is now a columnist at Spirituality and Health Magazine, a radio host at Unity's Big Universe, as well as being an academic dean at One Spirit Interfaith Seminary. In addition she has a strong social media presence
Author will hire an outside publicist in addition to Monkfish's publicity
Sacred Sendoffs will have strong appeal to those who have lost a pet and are looking for ways to honor and their pet while dealing with their grief.
Few texts exist for those interested in animal chaplaincy or animal spirituality. Seminary programs are increasingly studying eco-spirituality, Creation care, and issues dealing with animal exploitation-there is an opportunity for Sacred Sendoffs to fill a gap within these program
About the Author
---
Sarah Bowen is an animal chaplain and advocate for all creatures. She offers workshops on interspecies mindfulness practices, works with humans around animal grief/loss, and advocates for exploited and endangered species within both religious and secular contexts. You can often find her huddled over wildlife struck by cars, giving them a sacred sendoff. Bowen is also a cofounder of Compassion Consortium, the first interfaith, interspiritual, and interspecies faith community, an academic dean at One Spirit Interfaith Seminary; a columnist on animal/human relationships for Spirituality & Health magazine; and the author of two award-winning books on modern spirituality, including Spiritual Rebel. Her work has also appeared in Tricycle: The Buddhist Review, Elephant Journal, mindbodygreen, and on a wide range of podcasts. She holds a BA in Human Ecology, MA in Religious Studies, and is joyfully engaged in postgraduate research in Humane Religious Studies and Anthrozoology.