Nemerov's Door: Essays (Paperback)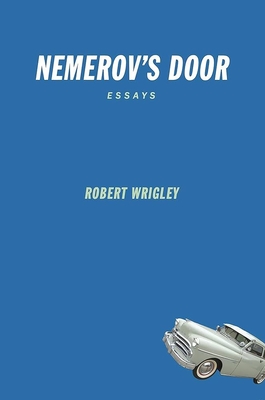 $19.95
Email or call for price.
Description
---
Poetry. Literary Nonfiction. In his youth, Robert Wrigley had little interest in poetry; you even could call it an active disinterest. Then, at the age of twenty-one, after being drafted into the army during the Vietnam War, after receiving an honorable discharge on the grounds of conscientious objection, and feeling otherwise adrift, he took, on a lark, a class in poetry writing, and that class altered the trajectory of his life. Nemerov's Door is the story of a distinguished and widely celebrated poet's development, via episodes from his life, and via his examinations of some of the poets whose work has helped to shape his own. The book is a testament to what matters most in this particular poet's life: love, nature, wild country, music, and poetry.Essays on James Dickey, Richard Hugo, Etheridge Knight, Howard Nemerov, Sylvia Plath, and Edwin Arlington Robinson are interwoven with essays about the sources of poetry; arrowheads; wild rivers; and the lyrics of a song from My Fair Lady, among other things. In the essay about Richard Hugo, Wrigley engages with a single poem by his great mentor, whose influence on Wrigley and many other poets of his generation has been enormous. The Music of Sense extrapolates from Frost's notion of the sound of sense, and fuses it with Hugo's notion that the poet, forced to choose between music and meaning, must always choose music. As though to offer his own proof of that notion, one of Wrigley's other essays here is a poem.
About the Author
---
Robert Wrigley has published eleven books of poetry, including In the Bank of Beautiful Sins, which won the San Francisco Poetry Center Book Award; Reign of Snakes, which won the Kingsley Tufts Award; Lives of the Animals, which won the Poets' Prize; and Anatomy of Melancholy & Other Poems, which won a Pacific Northwest Book Award. He has been the recipient of fellowships from the National Endowment for the Arts, the Idaho Commission on the Arts, and the Guggenheim Foundation. A former Distinguished Professor at the University of Idaho, he lives in the woods near Moscow, Idaho, with his wife, the writer Kim Barnes.
Praise For…
---
"As I was nearing the conclusion of Wrigley's book, thinking how I might identify and praise its magnificence, he described waking after a night of camping out with his son, and looking up and seeing the sky as 'all eyes and personality.' Wrigley's work resembles that sky, to which I would add he also has an infallible ear. William Matthews once said he wanted aesthetic intimacy instead of aesthetic distance, and this collection of memoir/essays abounds throughout with a rich, emotional intelligence, naming and examining the poems and poets he loves. It's finally a poet's autobiography, and the very best book of its kind that I've ever read." —Stephen Dunn

"I had the good fortune to read Nemerov's Door when I was cooped up during the Covid pandemic and I can't think of a better companion to guide me out into the world of poetry and rivers. Robert Wrigley's smart and personal essays range from the essence of teaching to his conflicted search for arrowheads, from Frank Sinatra singing 'Under My Skin,' to Richard Hugo's 'Trout.' I marked so many resonant passages that transport me into a landscape I will never hike or paddle or climb to, but I can get a glimpse not only of the terrain, but of the epiphanic experience that Wrigley conveys. And that's what great writing is about, isn't it?" —Ellen Bass

"Robert Wrigley has long been one of my foundational poets. Each of his books has taught me how to live in this world. And now this welcome essay collection brings a fresh slant of light on the trail. This is wonderful work. I'm grateful for it." —Luis Alberto Urrea