Welcome to Word After Word Books!
Tahoe Flight (Paperback)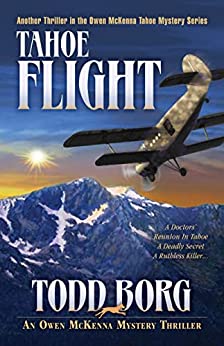 Description
---
It Started With A Murder 20 Years Ago
When Benito Diaz was a teenager, his mother was murdered. Tahoe Detective Owen McKenna was a rookie on the San Francisco PD, and he helped catch the killer, Tucker Dopple. Benito's testimony put Dopple in prison.

A Convict Gets Paroled
Two decades later, Dr. Benito Diaz is an oncologist, and Tucker Dopple has been paroled. Dopple stalks Diaz and McKenna. When Diaz goes to a doctors' reunion in Tahoe, Dopple has an opportunity to kill both Dr. Diaz and Detective McKenna at the same time.

A Killer Is Avenging Past Crimes
But Diaz and McKenna have more problems than a murderous ex-con. The doctors and previous medical school classmates have their own scores to settle. When McKenna gets in the way, he and his Great Dane Spot are kidnapped by a crazed pilot who is determined to drop them into Lake Tahoe…
About the Author
---
As a child in Minnesota, Todd Borg grew up with two fixations, reading mysteries and skiing the great, precipitous mountain ranges of the Upper Midwest. The first fixation led him to make up his own stories. The second led him and his wife to move to Tahoe in 1990, where they could ski on real mountains. Borg now has 21 Tahoe mysteries featuring ex-San Francisco Homicide Inspector Owen McKenna who plies his detective trade in Tahoe. Borg's books have achieved multiple accolades, many rave reviews in newspapers and magazines coast-to-coast including a starred reviw in Library Journal. His books have won the Ben Franklin Award for Best Mystery of the Year and been chosen by Library Journal as one of the Top 5 Mysteries of the Year.