Tahoe Moon (Paperback)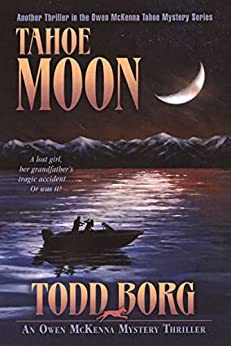 $16.95
Email or call for price.
Description
---
A Young Girl Is Left At A Hotel

Tahoe Detective Owen McKenna is heading to a meeting when he finds a lost, deaf girl. McKenna learns that the girl, Camille Dexter, is 8 years old. Her grandfather, Charlie Dexter, left her to wait for him, but he has disappeared.

The Girl's Grandfather Is Found Dead

McKenna calls Sergeant Jack Santiago. They discover Dexter's body crushed by a recently-cut tree. The cause of death appears to be suicide. But as McKenna investigates, the details don't make sense, and he learns of other apparent suicides that are suspicious.

McKenna's Girlfriend And The Young Girl Are Almost Killed

McKenna's girlfriend Street Casey is driving with Camille Dexter when someone runs them off a steep mountain road. They miraculously survive.

A Killer Is After The Girl

When McKenna finds a common thread to all the deaths, that connection leads to the girl, the only person in the group who's still alive. McKenna thinks he knows the killer's identity, the meanest, most twisted man he's ever met. But before McKenna can find him, the man kidnaps Camille...
About the Author
---
As a child in Minnesota, Todd Borg grew up with two fixations, reading mysteries and skiing the great, precipitous mountain ranges of the Upper Midwest. The first fixation led him to make up his own stories. The second led him and his wife to move to Tahoe in 1990, where they could ski on real mountains. Borg now has 20 Tahoe mysteries featuring ex-San Francisco Homicide Inspector Owen McKenna who plies his detective trade in Tahoe. Borg's books have achieved multiple accolades, many rave reviews in newspapers and magazines coast-to-coast including a starred reviw in Library Journal. His books have won the Ben Franklin Award for Best Mystery of the Year and been chosen by Library Journal as one of the Top 5 Mysteries of the Year.