The Magic Bojabi Tree (Hardcover)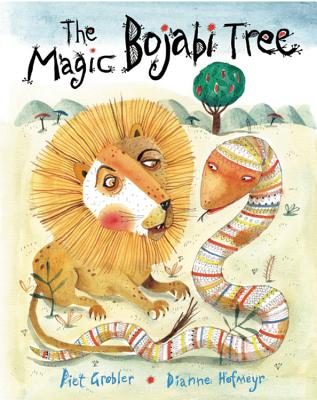 Email or call for price.
Out of Print - Not Available to Order
Description
---
Python has wrapped himself around the melon/mango/pomegranate tree with its delicious fruit, and he won't share the fruit unless the animals can tell him the correct name of the tree. Elephant, Monkey and Zebra each in turn visit Lion, who alone knows the name of the tree. But every time, the animals forget the name on the journey back to the tree. Then Tortoise, the slowest, smallest animal goes to Lion - and sings a special song to remind him of the name. It is the Bojabi Tree! Python unwraps himself from the trunk, and all the animals share a feast.
About the Author
---
Dianne Hofmeyr grew up on the tip of Southern Africa. An art teacher, she has written teenage novels and picture books, and has won the M-Net Award for fiction, as well as two IBBY Honor Books. Her other works include The Faraway Island, The Star Bearer and The Magic Bojabi Tree. She lives in the U.K.Piet Grobler grew up on a farm in Limpopo, South Africa. After working as a church minister, he made a career in illustration and now lectures at the University of Worcester. He is the recipient of many international illustration awards, including the IBBY Honours List. His books for Frances Lincoln include The Great Tug of War and Aesop's Fables with Beverley Naidoo, and Fussy Freya with Katharine Quarmby. He lives with his wife and daughter in Great Malvern.
Praise For…
---
'The African landscapes and creatures are vividly depicted. ... The repetition and clever use of words make it a super story to read aloud.'
ÿ`A treat to read aloud to children . . . A book that you will want to return to again and again.'
'The African landscapes and creatures are vividly depicted. ... The repetition and clever use of words make it a super story to read aloud.'
ÿ`Packed with humour and brought to life by Piet Grobler's vibrant illustrations. . . An immensely satisfying tale.'
ÿ`A treat to read aloud to children . . . A book that you will want to return to again and again.'
'The text flows easily and is excellent for reading aloud, whilst the comic wordplay will engage all the family. The traditional story is lifted by the well- drawn characters who come alive in warm, delicate colours.'
'a delightful animal folk tale'
'delightful'
`Featuring humorous, vivid and detailed illustrations which evoke the African landscape with a few strokes of the paintbrush, this is a great book to share with young children. . . it also gently reinforces the message about listening and remembering.'
ÿ`Fabulously evocative illustrations. . . a humorous journey.'
ÿ`A beautifully illustrated story.'
`A delightful present for the younger reader.'
`I used the tory as a basis for some `storytelling challenges'- simple scenario's to stimulate the children's own stories...It is a good demonstration of what oral stories do best.'
ÿ'Packed with humour and brought to life by Piet Grobler's vibrant illustrations. . . An immensely satisfying tale.'
'I used the tory as a basis for some 'storytelling challenges'- simple scenario's to stimulate the children's own stories...It is a good demonstration of what oral stories do best.'