Welcome to Word After Word Books!
The Hard Parts: A Memoir of Courage and Triumph (Compact Disc)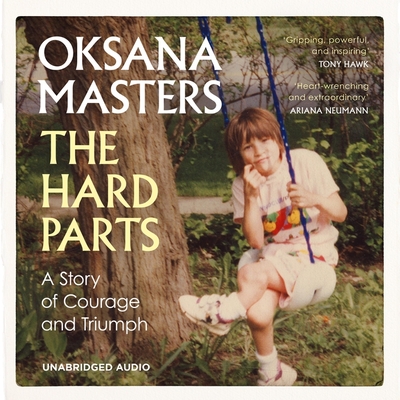 $39.99

OUT OF STOCK - Available to order
Description
---
Oksana Masters, the United States' most decorated winter Paralympic or Olympic athlete, tells her jaw-dropping story of triumphing over extraordinary Chernobyl disaster-caused physical challenges to create a life that, by example, challenges everyone to push through what is holding them back.Oksana Masters was born in Ukraine--in the shadow of Chernobyl--seemingly with the world against her. She was born with one kidney, a partial stomach, six toes on each foot, webbed fingers, no right bicep, and no thumbs. Her left leg was six inches shorter than her right, and she was missing both tibias. Relinquished to the orphanage system by birth parents daunted by the staggering cost of what would be their child's medical care, Oksana encountered numerous abuses, some horrifying. Salvation came at age seven when Gay Masters, an unmarried American professor who saw a photo of the little girl and became haunted by her eyes, waged a two-year war against stubborn adoption authorities to rescue Oksana from her circumstances. In America, Oksana endured years of operations that included a double leg amputation. Still, how could she hope to fit in when there were so many things making her different? As it turned out, she would do much more than fit in. Determined to prove herself and fueled by a drive to succeed that still smoldered from childhood, Oksana triumphed in not just one sport but four--winning against the world's best in elite rowing, biathlon, cross-country skiing, and road cycling competitions. Now considered one of the world's top athletes, she is the recipient of seventeen Paralympic medals, the most of any US athlete of the Winter Games, Paralympic or Olympic. This is Oksana's astonishing story of journeying through a series of dark tunnels--and how, with her mother's love, she finally found her way into the light. Her message to anyone who doesn't fit in: you can find a place where you excel--where you have worth.