Better Allies: Everyday Actions to Create Inclusive, Engaging Workplaces (Paperback)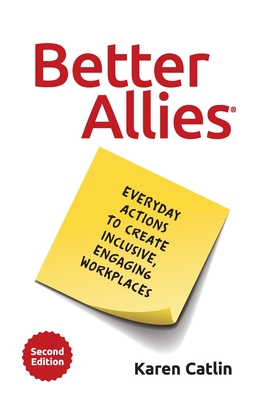 $19.99

OUT OF STOCK - Available to order
Description
---
The highly-acclaimed, practical guide for how to be an ally in the workplace, now in its 2nd edition.
Do you want to build a workplace culture that has a certain buzz? Where employees thrive and engagement survey scores soar? Where people from different backgrounds, races, genders, sexual orientations/identities, ages, and abilities are hired and set up for success?
To create this kind of vibrant and supportive workplace, learn to practice active allyship. With the Better Allies(R) approach, it's something anyone can do.
Since originally publishing Better Allies in 2019, Karen Catlin has amassed dozens of new scenarios and insights through her talks, workshops, and community interactions. In this fully revised second edition, you'll learn to spot situations where you can create a more inclusive culture, along with straightforward steps to take and changes to make. Catlin, a highly-sought after expert on allyship, will show you how to:
- Attract and hire a diverse workforce
- Amplify and advocate for others
- Give effective and equitable performance feedback
- Use more inclusive language
- Run inclusive conferences and events
Read this book to learn the Better Allies(R) approach, level-up your ally skills, and create a culture where everyone can do their best work and thrive.