Welcome to Word After Word Books!
Going It Alone: Ramblings and Reflections from the Trail (Paperback)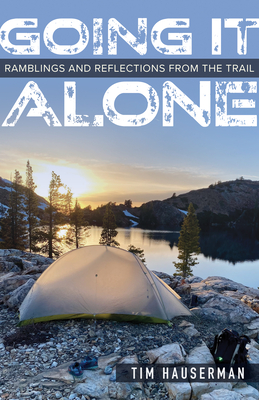 $19.95

On Our Shelves Now - Holiday Shipping Not Guaranteed
Description
---
Join author Tim Hauserman on his solo journeys through the Sierra Nevada and the forests of Minnesota. Hauserman shares his experiences hiking by himself through some of the most spectacular landscapes in the United States. Along the way, he confronts his conflicting desires to be alone in the wilderness, then facing profound loneliness and fear once he is there. In a single instant, he goes from enjoying a shimmering mountain lake to being petrified by the sound of a bear crunching through sticks right next to his tent.

Hauserman hikes the John Muir Trail through rainstorms and challenging climbs, explores the Tahoe Rim Trail on a fourteen-day excursion, and travels to Minnesota to conquer the Superior Hiking Trail, where he is inundated with bugs, faces drought, and is eerily alone on the trail with not a single other hiker in sight for days. Going It Alone combines his self-deprecating humor, what he identifies as "Stupid Tim Tricks," and delightful descriptions of the natural surroundings.

Some might describe the wilderness as the middle of nowhere or as nothingness, but for Hauserman, it is everything. While his love for nature remains undaunted through these experiences, he also discovers that he has overly high expectations for his capabilities and that he cannot just wish his loneliness away. He eventually discovers that his long walks in the woods are less about hiking and more about learning how he wants to live his life.

 
About the Author
---
Tim Hauserman is a freelance writer and long-term resident of Lake Tahoe. He has written hundreds of articles for numerous publications on travel, outdoor recreation, housing, education, wildfire, and a variety of other topics. Hauserman is the author of Monsters in the Woods: Backpacking with Children; Tahoe Rim Trail: The Official Guide for Hikers, Mountain Bikers, and Equestrians, 4th Edition; and Cross-Country Skiing in the Sierra Nevada: The Best Resorts & Touring Centers in California & Nevada.
 
Praise For…
---
"Going It Alone is part memoir, part travel book, part treatise on writing and a deep reflection of what it is to truly be alone."
—Tahoe Weekly

"[Hauerman's] stories convey the magic not only of the Tahoe Rim Trail, for which he separately has written a guidebook, but also of the paths and lakes in Desolation Wilderness."
—Laura Read, Moonshine Ink

"Hauserman's latest book . . . is an intimate chronicle that takes readers across rugged mountain paths while musing candidly about solitude versus loneliness in the wild. There are dad jokes, too."
—Alex Hoeft, Tahoe Quarterly

"Going It Alone had me laughing out loud, but its sober central theme of loneliness is a timely and important one. Firmly in the tradition of nature writers like Bill Bryson and David Gessner, Hauserman's style is down-to-earth, direct, and relatable."
—Colleen Morton Busch, author of Fire Monks: Zen Mind Meets Wildfire

"This is a different kind of adventure [book], one that draws the reader in—not through descriptions of bold, harrowing feats, but through quiet ruminations on beauty, connection, quiet, loneliness, and wildlife. It is well-paced and carefully drawn." 
—Robert Leonard Reid, 2018 Nevada Writers Hall of Fame inductee, author of five books, including Because It is So Beautiful: Unraveling the Mystique of the American West