Snowdrift (An Embla Nyström Investigation) (Hardcover)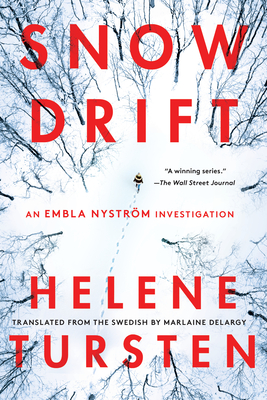 $27.95
Email or call for price.
Other Books in Series
Description
---
When a new lead breaks in the cold case that has long haunted Swedish Detective Inspector Embla Nyström, the truth she's been seeking about her best friend's disappearance may finally be revealed—if it doesn't kill her first.

One winter night, 28-year-old Detective Inspector Embla Nyström receives a phone call that sends her reeling. It's been fourteen years since her best friend disappeared from a nightclub in Gothenburg, but Embla recognizes her voice before the call abruptly disconnects. Embla is thrilled to learn Lollo is still alive, but before she can dive into the case, she gets another phone call—this time from a relative. A man has been found shot dead in one of the guest houses he and his wife manage in rural Sweden. Could she come take a look?

When Embla arrives on the scene, she receives another shock. The dead man is Milo Stavic, a well-known gang member and one of the last people seen with Lollo. And, as Embla soon learns, the same night that Milo was shot in the guest house, his brother Luca was also killed. Why, after all these years, is someone targeting the Stavic brothers, and where is the third brother? With help from a handsome local detective and his police dog in training, Embla launches an investigation into the three Stavic brothers, hoping it will bring her closer to finally finding Lollo and putting an end to her terrible nightmares.
About the Author
---
Helene Tursten was a nurse and a dentist before she turned to writing. She is the author of the Irene Huss series, including Detective Inspector Huss, Night Rounds, Who Watcheth, and Protected by the Shadows; the Embla Nyström series; and the short story collection An Elderly Lady Is Up to No Good. Her books have been translated into 25 languages and made into a television series. She was born in Gothenburg, Sweden, where she now lives with her husband.
Praise For…
---
Praise for Snowdrift

"In this third series entry, Embla once again proves herself a force to be reckoned with . . . Ms. Tursten's novel commands attention from the start, even as it lays the groundwork for a series of startling revelations—and a prolonged action sequence that soaks the snow blood-red."
—The Wall Street Journal

"Tursten's descriptions of the cold are bone-cracking . . . Embla's customary coolness gives way to nightmares, anxiety and more."
—The New York Times

"A solid character-driven tale . . . the settings in this personal-twist police procedural ring true, including descriptions of sub-freezing weather, food (moose meatballs, wild boar cutlets), bleak geography and the storytelling's demeanor. It's nothing if not Nordic—which is part of its charm."
—USA Today

"A frosty good yarn." 
—The Winnipeg Free Press

"Spellbinding . . . The action includes a spectacular chase sequence, a bombshell twist that turns the cases around, and an explosive firestorm. This stunning page-turner is unarguably the best in the series."
—Publishers Weekly, Starred Review

"A series of clues and red herrings leave readers on the edge of their seats as twists and turns in the narrative keep the suspense at a high level. The characters are well limned and believable, while the excellent translation from Swedish to English by Marlaine Delargy makes for a solidly smooth read. This is Helene Tursten at her finest."
—BookReporter.com

"With her third book in this series, Swedish writer Helene Tursten again displays her penchant for meticulous detail—makes and models of cars, the finer points of guns and ammunition, home furnishings, even characters' food preferences. Who doesn't love smoked moose heart and pickled chanterelles?"
—Air Mail

"If you long for the warm comfort of a well-written, traditional police procedural, Snowdrift should be on your Christmas list this winter."
—Crime Fiction Lover

"A winning Scandinavian crime series, with an immensely driven, physically capable and very human heroine at its heart."
—7:30 Book Club

"Helene Tursten has created her very own brand of slow-burning and classical crime fiction novels with great atmosphere, superb plotting and interesting characters . . . A perfect read for a long dark winter evening."
—NordicNoir.info

"Brace for a page-turner, and enjoy this fierce new police procedural turned thriller, with its engaging and memorable 'wounded' detective."
—Kingdom Books

"Perhaps the best yet in this series."
—Parry Sound 

"This twist-laden third episode offers further evidence of Embla's resilience and investigative tenacity as she confronts her burdens of guilt and fear, opens herself to romantic possibilities, and methodically plows through multiple levels of deceit."
—Booklist

"Nightmares about the abduction of her childhood best friend, Lollo, have bedeviled police officer Embla Nyström for half of her 28 years. One of those jarring nightmares opens Helene Tursten's latest thriller, Snowdrift . . . As always in Tursten's books, the well-drawn characters and first-rate suspense provide fine examples of the dark delights of Scandinavian noir."
—BookPage

Praise for the Embla Nyström investigations

"[A] winning series."
—The Wall Street Journal

"An engrossing read."
—BBC Culture

"Haunted, driven, immensely human and highly trained as a hunter and tracker, Embla is a winning new Scandinavian noir lead."
—Jane Ciabattari, BBC Culture

"Impetuous and physical . . . [Embla is] a bright light among young Swedish cop characters."
—Toronto Star

"Solid and absorbing . . . Tursten takes her time staging the story, focusing on fine descriptions of her rugged setting and the engaging, tough young detective."
—Adam Woog, The Seattle Times

"A powerful new heroine."
—Check It Out, KWIT.org

"[An] outstanding series launch . . . Embla is a refreshingly capable lead, whose situational ethics means that she doesn't feel she must do everything by the book."
—Publishers Weekly, Starred Review

"Embla, still plagued by nightmares about losing her teenage best friend, is a sharp, willful, though emotionally vulnerable detective. Fans of the Huss novels in particular and Nordic noir in general will want to follow this series from its start."
—Booklist, Starred Review

"Tursten delivers with an intricate, complex (but not confusing), carefully constructed plot with a long list of victims and a longer list of suspects to go with it . . . a perfect winter read."
—Mystery Scene Magazine