Welcome to Word After Word Books!
The Witch Owl Parliament (Clockwork Curandera, Volume I): (Clockwork Curandera, Volume I) (Paperback)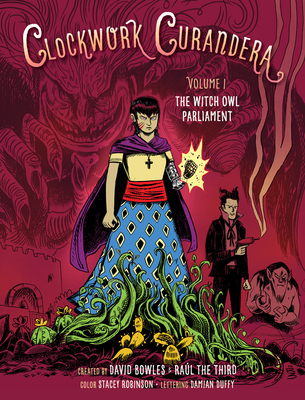 Description
---
Eisner Awards, Will Eisner Comic Industry Awards
Great Graphic Novels for Teens, Young Adult Library Services Association (YALSA)
International Latino Book Award, Empowering Latino Futures honor
Discover a graphic novel unlike any other--a brilliant steampunk reimagining of Frankenstein set in colonial Mexico.
In the Republic of Santander, non-Christian magic is frowned upon, if not outright prohibited. But when Cristina Franco, an apprentice shaman, is killed by witch owls, her brother Enrique cannot let her go. With forbidden alchemy and engineering, Enrique brings her back to life: part human, part machine. Though her very existence is an abomination to Santander's citizens, Cristina vows to use her new abilities to protect her country from attack.
With help from a handsome skinwalker named Mateo, Cristina and Enrique track down the witch owl coven and uncover a sinister plot to bring Santander under the rule of the Witch Owl Parliament, whose legendary cruelty would dismantle the country's hard-won freedoms. At the same time, Indigenous folks and immigrants are disappearing from Santander--including Enrique's beloved, Gaspar. Could the attacks and the disappearances be related? As the witch owls attack more trains and more refugees go missing, the trio must uncover the witch owls' origins to understand their weakness.
Energetic illustrations by Pura Belpr Award winner Ra l the Third bring to life the words of award-winning author and poet David Bowles. Don't miss this amazing first volume of the Clockwork Curandera trilogy