The Groom's Instruction Manual: How to Survive and Possibly Even Enjoy the Most Bewildering Ceremony Known to Man (Owner's and Instruction Manual #6) (Paperback)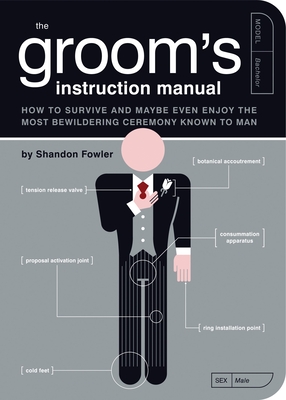 Description
---
At Last! A Comprehensive Guide to Good Grooming
 
Gone are the days when you could sit back and let your fiancée plan the entire wedding. Today's grooms have countless tasks to perform, from hiring the entertainment and planning the rehearsal dinner to buying the wedding bands and comforting hysterical family members.
 
Fortunately, The Groom's Instruction Manual is here to answer all of your most challenging questions: How do I handle feuding relatives? What should I look for in a good wedding photographer? Why does my fiancée seem stressed out all the time? Whatever your concerns, you'll find the answers here—courtesy of author and veteran groom Shandon Fowler.
About the Author
---
Shandon Fowler was the intrepid copilot of a "traditional Southern wedding" in his wife's hometown of Beaufort, South Carolina. The ceremony took place in front of 500 friends and family members, with a bride-to-groom invitee ratio of 8 to 1. The reception was held under a giant oak tree in his mother-in-law's yard (an idyllic setting and a big money saver). It was either a picture-perfect wedding or an experience so traumatic that it will take years to recover, depending on whom and when you ask. Shandon resides in Brooklyn, New York, with his wife, Sydney, and their son, Spence.
 
Paul Kepple and Jude Buffum are better known as the Philadelphia-based studio Headcase Design. Their work has been featured in many design and illustration publications, such as AIGA 365 and 50 Books/50 Covers, American Illustration, Communication Arts, and Print. Paul worked at Running Press Book Publishers for several years before opening Headcase in 1998. Both graduated from the Tyler School of Art, where they now teach. When Jude married his art school sweetheart, Amy, a suitable human to take up the task of ring bearer could not be located. Fortunately their Boston Terrier, Huxley, was persuaded to bear the mantle, after a few laps of Yuengling Lager settled his nerves.
Praise For…
---
"He may not have shelves of magazines devoted to him (or groomsmen half as doting as your crew of 'maids), but with The Groom's Instruction Manual, your hubby-to-be can glean matter-of-fact survival tips on everything from dealing with your freak-outs to making the most of your wedding night; hubba hubba."—Philadelphia Magazine
 
"For the stand-up 21st century male this pocket guide will help the soon-to-be-wed weed through basics."—Boston Herald
 
"Pick up The Groom's Instruction Manual, a little black book to help a guy survive and, as it says, possibly enjoy his wedding day."—Milwaukee Journal Sentinel

"Whether you're getting ready to pop the question or you're planning the honeymoon, Shandon Fowler's manual offers sage advice for guys who want to trade in their bachelor status for a husband title."—Business Insider