Raf (Hardcover)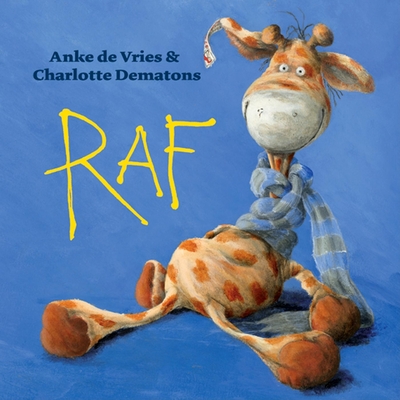 $16.95

OUT OF STOCK - Available to order
Description
---
When Ben loses his cuddly friend Raf, he is inconsolable. A few days later, Ben receives a postcard-from Raf. Each week, Ben receives a new postcard from Raf detailing Raf's journeys through Africa. Will the two be reconnected soon?
About the Author
---
de Vries is a former winner of the Dutch National Book Award, the Silver Pen, and has been included on the List of Honor of the European Prize for Juvenile Literature.
Praise For…
---
Kirkus Review - Children (09/15/2009):
A beloved toy is lost and found again—well, not exactly, but close enough—in this charming, lighter-than-air import. Raf is a stuffed giraffe who is clearly the favorite companion of his owner Ben. Raf's portrait on the cover reveals mud stains, straggly hair and a goofy grin while the opening double-page spread shows him flying through the air with one leg clutched in a mittened hand. Then Raf disappears, and his imaginary adventures begin. According to hand-lettered postcards with evocative stamps, Raf is in far-off Africa, traveling by camel caravan, floating past flamingos, frolicking with elephants, swinging through trees with monkeys and visiting his spotted kin. Unusual perspectives and bold use of color keep the illustrations interesting while the contrast between Ben's cold, snowy home in Holland and the sunny African scenes adds appeal. Raf's ingenuous comments prepare Ben (and readers) for the change in his appearance upon his joyous return. Parents might learn a trick or two; kids are likely to accept Raf's transformation at face value. Pure delight. (Picture book. 4-8)(COPYRIGHT (2009) KIRKUS REVIEWS/NIELSEN BUSINESS MEDIA, INC. ALL RIGHTS RESERVED.)
School Library Journal (10/01/2009):
PreS-Gr 1This gem follows a toy giraffe that spontaneously disappears from his child's room to travel through Africa. Even from the first view of Raf, who gleefully dangles from his walking owner's mitten, children will note a spirit of adventure. In postcards sent to his owner/pal, Ben (whom readers never see), Raf tells of encounters with camels, flamingoes, elephants, monkeys, and giraffes. The final card announces his impending return home. Just in time for Ben's birthday, the toy arrives in the mail, dressed in kente cloth and colored beads, and sporting a great grin. DeVries uses postcards for her text, and Dematons's illustrations on full spreads bring deep textures and colors to the pages. Tiny Raf at the feet of giraffes at sunset and his night jungle experience as some monkeys' tug-of-war prize evoke strong sensory components. The scene of Ben's toys in party hats is a hoot. In addition to being a great success with preschool fans of toy tales, this story could also be shared with primary-grade children in conjunction with units on biome study or continents."Gay Lynn Van Vleck, Henrico County Library, Glen Allen, VA" Copyright 2009 Reed Business Information.
Hornbook Guide to Children (01/01/2010):
Raf, Ben's stuffed giraffe, travels to Africa where he encounters real versions of himself and Ben's other toys. Raf sends postcards back and returns (in African garb) in time for Ben's birthday. In this confusing Dutch story, the boldly colored paintings contrast snowy Holland with warm African climes, where readers must search for Raf among the flamingos, elephants, and other animals. (Copyright 2010 by The Horn Book, Incorporated, Boston. All rights reserved.)