Wild and Crooked (Hardcover)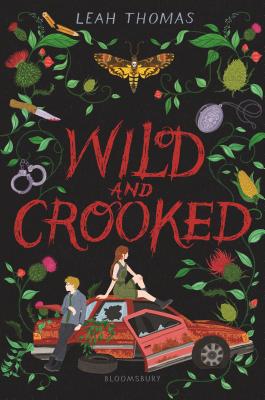 $18.99
IN STOCK - On Our Shelves Now!
Summer 2019 Kids Indie Next List
---
"This is not a love story, but it is a story full of love. Kalyn's father is in prison for murdering Gus' father decades ago in the rural town of 'Shitsboro.' This small town harbors deep-rooted prejudices, and old disputes run strong. Equal parts laugh-out-loud funny and dead serious. The vibrant Kalyn and warmhearted Gus become friends despite the surrounding conflict between their families, and they aren't afraid of searching for what really happened all those years ago. Leah Thomas' writing is flawless and her story is unpredictable."
— Leah Atlee, Changing Hands, Tempe, AZ
Description
---
Critically-acclaimed author Leah Thomas blends a small-town setting with the secrets of a long-ago crime, in a compelling novel about breaking free from the past.

In Samsboro, Kentucky, Kalyn Spence's name is inseparable from the brutal murder her father committed when he was a teenager. Forced to return to town, Kalyn must attend school under a pseudonym . . . or face the lingering anger of Samsboro's citizens, who refuse to forget the crime.

Gus Peake has never had the luxury of redefining himself. A Samsboro native, he's either known as the "disabled kid" because of his cerebral palsy, or as the kid whose dad was murdered. Gus just wants to be known as himself.

When Gus meets Kalyn, her frankness is refreshing, and they form a deep friendship. Until their families' pasts emerge. And when the accepted version of the truth is questioned, Kalyn and Gus are caught in the center of a national uproar. Can they break free from a legacy of inherited lies and chart their own paths forward?
About the Author
---
Leah Thomas frequently loses battles of wits against her students and her stories. When she's not huddled in cafes, she's usually at home pricking her fingers in service of cosplay. Leah lives in San Diego, California and is the author of When Light Left Us, Nowhere Near You, and the William C. Morris YA Debut Award finalist, Because You'll Never Meet Me.
Praise For…
---
"Fiercely feminist and gorgeously inclusive, Wild and Crooked effortlessly compels the reader to explore what it means to discover the beautiful truth of who you are, and how to fight for the truth of those you love." —Shannon M. Parker, acclaimed author of THE GIRL WHO FELL and THE RATTLED BONES

"Morris finalist Thomas' poetic, figurative language beautifully defines each narrator. . . Thomas' forthright, sensitive treatment of homosexuality, class, race, and prejudice combine with fully developed characters to create a world peopled by marvelously real protagonists who have the courage to do the right thing." —Booklist, starred review

"It's refreshing to read teens having thoughtful conversations without losing their particular voices. . . . YA authors looking to incorporate meaningful and moving LGBTQ stories into their novels: Take notes." - Entertainment Weekly

"The book's real stars are its poignantly explored issues: love, social class, sexuality, homophobia, and the cycles of poverty and abuse." —Kirkus Reviews

"Both an alluring criminal mystery and a savvy contemplation of how identity is informed by a million histories, both small and large. . . . Readers are in for a wild ride." —BCCB

"This book stands out for its sensitive and complex depiction of disability, queerness, and classism. . . The story of friendship between queer protagonists is refreshing." —School Library Journal

"A compelling, character-driven, and imaginative novel. . . What makes it stand out is Thomas's talent of bringing intimacy, thoughtfulness, and a sense of wonder to her writing. ­For fans of Patrick Ness and Lauren Oliver, this is a must buy." —School Library Journal, starred review, on WHEN LIGHT LEFT US

"Metaphor and figurative language make the prose here beautiful to read. . . . The poignant, strange, and poetic novel is a nuanced exploration of human nature." —Booklist, starred review, on WHEN LIGHT LEFT US

"Readers will be captivated by the mystery and meaning in this eerie exploration of loss and love, hurting and healing, family and friends, and of letting go and reconnection." —School Library Connection on WHEN LIGHT LEFT US

"Unforgettable and distinct voices . . . A fantastic novel that will be especially resonant for readers who struggle with being or feeling outside of 'normal.'" —Booklist, starred review, on NOWHERE NEAR YOU

"This brilliant follow-up to a clever and unexpected novel does exactly what it should in keeping the same epistolary format but taking these two unforgettable characters way out of their comfort zones and toward lives that are lived rather than waited out, and the result is powerful stuff indeed." —BCCB, starred review, on NOWHERE NEAR YOU

"The pacing is impeccable, as letters move from sunniness (Oliver) and bemused distance (Moritz) to both writers exploring their darkest fears, experiences, and worries for their futures." —BCCB, starred review, on BECAUSE YOU'LL NEVER MEET ME

"A witty, unusual take on friendship and parlaying weakness into power." —Kirkus Reviews on BECAUSE YOU'LL NEVER MEET ME