Welcome to Word After Word Books!
Everywhere with You (Hardcover)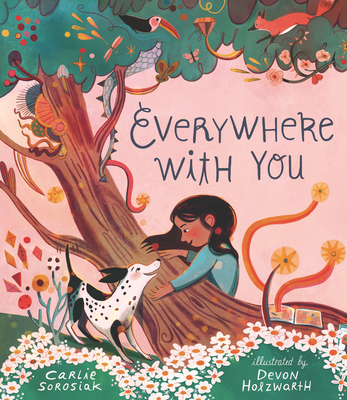 Description
---
The heartwarming friendship between a girl and the dog next door tenderly evokes the power of stories to bring—and keep—us together.

Two houses stand side by side: one is home to a dog, the other to a young girl. Though a fence divides them, girl and dog build a sweet and sturdy friendship rooted in make-believe . . . and are lonely no more. Paired with moving illustrations and based on a true story, this endearing tale from the author of I, Cosmo testifies to the transformative power of creativity and inter-species friendship.
About the Author
---
Carlie Sorosiak is the author of several books for young readers, including I, Cosmo—an acclaimed middle-grade novel told from the point of view of a golden retriever—Leonard (My Life as a Cat). She lives in Atlanta, Georgia.

Devon Holzwarth is the author-illustrator of Found You and the illustrator of Papa, Daddy, and Riley by Seamus Kirst. She grew up in Panama with the jungle as her garden and parrots and iguanas as pets. She currently lives in Germany.
Praise For…
---
Carlie Sorosiak and Devon Holzwarth's flawless picture book rings with a tender truth: When you are with the ones you love, everywhere you go is home. . . . Sorosiak's writing is heartfelt and brimming with emotion. You'll be so caught up in the narrative that you may not even notice the artistry beneath the words—poetic turns, perfectly tuned descriptions, the power of a concise, earnest statement—but it's worth a second read to catch and savor it all. . . . . Illustrator Devon Holzwarth's vibrant, lush images of jewel-tone flowers and trees are mesmerizing, as botanical wonders in deep, rich colors threaten to overflow the edges of the pages.
—BookPage (starred review)

With warm colors, curving lines, and rhythmic repetition of forms, the mixed-media illustrations beautifully portray the setting as well as the main characters and their growing friendship, while the richly detailed dream scenes have a more otherworldly quality. A heartening picture book.
—Booklist (starred review)

The illustrations are beautifully rendered with bold and dramatic colors. . . . Themes of friendship and relationships between people and pets are woven throughout this book. . . young readers will find the story reassuring and will appreciate the happy ending.
—School Library Connection

This imaginative story celebrates friendship and the wonder of books. Though it makes a sweet bedtime story, it's appropriate for any time of the day, any season of the year.
—The Florida Times-Union

Based on a true story, Carlie Sorosiak's new book is a sweet tale on a special relationship between a girl and dog. Through flights of imagination and stunning illustrations by Devon Holzwarth, everyone will get lost in this moving story.
—TinyBeans