Welcome to Word After Word Books!
1066 and Before All That: The Battle of Hastings, Anglo-Saxon and Norman England (Very, Very Short History of England) (Paperback)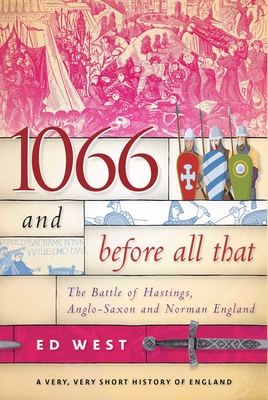 $14.99

OUT OF STOCK - Available to order
Description
---
A riveting account of the most consequential year in English history, marked by bloody conflict with invaders on all sides.

1066 is the most famous date in history, and with good reason, since no battle in medieval history had such a devastating effect on its losers as the Battle of Hastings, which altered the entire course of English history.

The French-speaking Normans were the pre-eminent warriors of the 11th century and based their entire society around conflict. They were led by William 'the Bastard' a formidable, ruthless warrior, who was convinced that his half-Norman cousin, Edward the Confessor, had promised him the throne of England. However, when Edward died in January 1066, Harold Godwinson, the richest earl in the land and the son of a pirate, took the throne . . . . this left William no choice but to forcibly claim what he believed to be his right. What ensued was one of the bloodiest periods of English history, with a body count that might make even George RR Martin balk.

Pitched at newcomers to the subject, this book will explain how the disastrous battle changed England—and the English—forever, introducing the medieval world of chivalry, castles and horse-bound knights. It is the first part in the new A Very, Very Short History of England series, which aims to capture the major moments of English history with humor and bite.
About the Author
---
Ed West is the recently appointed associate director of UK2020, a British policy think tank. Before that, Ed was deputy editor of the Catholic Herald and a frequent contributor to the Daily Telegraph, Evening Standard, Daily Express, and the Guardian. He is a popular British twitter personality and blogs for the Spectator. He currently lives in London.