Welcome to Word After Word Books!
My Grandmother Asked Me to Tell You She's Sorry: A Novel (Paperback)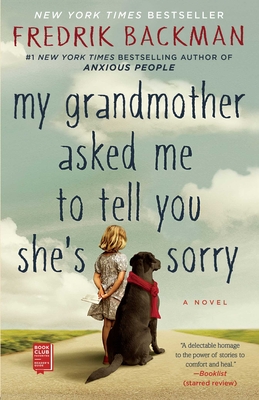 $17.99

OUT OF STOCK - Available to order
July 2015 Indie Next List
---
"The ability to write with both humor and sadness, to tell fairy tales without becoming sappy, to convey real love and grief - these are Backman's remarkable gifts. Elsa is seven years old and curious about everything, braver than most adults, often difficult, and acutely aware of being an outsider. Her eccentric grandmother loves her fiercely and is willing to do many unusual things to bring joy and magic to Elsa's life. When her grandmother passes away, Elsa discovers the roles played by the quirky inhabitants of her life and begins to find her way through her grief and to the discovery that being different may be the magic that saves them all."
— Luisa Smith (E), Book Passage, Corte Madera, CA
Description
---
A charming, warmhearted novel from the author of the New York Times bestseller A Man Called Ove.

Elsa is seven years old and different. Her grandmother is seventy-seven years old and crazy—as in standing-on-the-balcony-firing-paintball-guns-at-strangers crazy. She is also Elsa's best, and only, friend. At night Elsa takes refuge in her grandmother's stories, in the Land-of-Almost-Awake and the Kingdom of Miamas, where everybody is different and nobody needs to be normal.

When Elsa's grandmother dies and leaves behind a series of letters apologizing to people she has wronged, Elsa's greatest adventure begins. Her grandmother's instructions lead her to an apartment building full of drunks, monsters, attack dogs, and old crones but also to the truth about fairy tales and kingdoms and a grandmother like no other.

My Grandmother Asked Me to Tell You She's Sorry is told with the same comic accuracy and beating heart as Fredrik Backman's bestselling debut novel, A Man Called Ove. It is a story about life and death and one of the most important human rights: the right to be different.
About the Author
---
Fredrik Backman is the #1 New York Times bestselling author of A Man Called Ove, My Grandmother Asked Me to Tell You She's Sorry, Britt-Marie Was Here, Beartown, Us Against You, and Anxious People, as well as two novellas and one work of nonfiction. His books are published in more than forty countries. He lives in Stockholm, Sweden, with his wife and two children. Connect with him on Facebook and Twitter @BackmanLand and on Instagram @Backmansk.
Praise For…
---
"Bring tissues when you start My Grandmother Asked Me to Tell You She's Sorry, but bring your funnybone, too. It's that kind of book – one that, if you miss it, you'll never forgive yourself."
— Business Insider

"Every bit as churlish but lovable as Backman's cantankerous protagonist in his debut, A Man Called Ove (2014), precocious Elsa will easily work her way into the hearts of readers who like characters with spunk to spare. A delectable homage to the power of stories to comfort and heal, Backman's tender tale of the touching relationship between a grandmother and granddaughter is a tribute to the everlasting bonds of deep family ties."
— Booklist (starred)

"Full of heart, hope, forgiveness, and the embracing of differences, Elsa's story is one that sticks with you long after you've turned the last page."
— Library Journal

"Firmly in league with Roald Dahl and Neil Gaiman. A touching, sometimes funny, often wise portrait of grief."


— Kirkus Reviews

"In his second offering, Backman (A Man Called Ove) continues to write with the same whimsical charm and warm heart as in his debut."
— Publishers Weekly

"I can't remember the last time that I read a book where I alternately cried and laughed, and sometimes both at the same time."
— Shelf Awareness