Welcome to Word After Word Books!
Georgie, All Along: An Uplifting and Unforgettable Love Story (Paperback)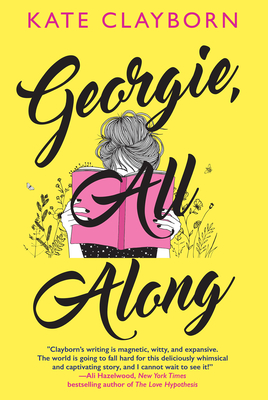 $16.95

OUT OF STOCK - Available to order
February 2023 Indie Next List
---
"Kate Clayborn always delivers, and Georgie, All Along is no different. The writing is engrossing and diverting and it's impossible not to love Georgie as she finds herself and her way. This is an excellent winter read to curl up with."
— Preet Singh, Eagle Eye Book Shop, Decatur, GA
Description
---
"Perfect for Emily Henry fans. [This] is the love story that proves you can go home again…It's so rich and wonderful." – Julia Quinn on The TODAY Show

"A sweet novel that reminds you going back is sometimes the best path forward . . . and that planning is never as rewarding as doing." —Jodi Picoult, New York Times bestselling author

"Magnetic, witty, and expansive. The world is going to fall hard for this deliciously whimsical and captivating story, and I cannot wait to see it!" —Ali Hazelwood, New York Times bestselling author of The Love Hypothesis

"Outright perfection!"—Christina Lauren, Kate Clayborn Fanclub Co-Presidents and Authors of The Soulmate Equation

Indie Next Pick| #1 Library Reads Pick | Goodreads Most Anticipated Romances of the Year | Bookish Highly Anticipated Reads | Bookpage Most Highly Anticipated Romance of the Year | Paste Magazine Most Anticipated Romances of the Year | Cosmopolitan UK Best Books of the Month | Bookriot Most Anticipated Books of the Year

The acclaimed author of Love Lettering weaves a wise and witty new novel that echoes with timely questions about love, career, reconciling with the past, and finding your path while knowing your true worth.

Longtime personal assistant Georgie Mulcahy has made a career out of putting others before herself. When an unexpected upheaval sends her away from her hectic job in L.A. and back to her hometown, Georgie must confront an uncomfortable truth: her own wants and needs have always been a disconcertingly blank page.

But then Georgie comes across a forgotten artifact—a "friendfic" diary she wrote as a teenager, filled with possibilities she once imagined. To an overwhelmed Georgie, the diary's simple, small-scale ideas are a lifeline—a guidebook for getting started on a new path.

Georgie's plans hit a snag when she comes face to face with an unexpected roommate—Levi Fanning, onetime town troublemaker and current town hermit. But this quiet, grouchy man is more than just his reputation, and he offers to help Georgie with her quest. As the two make their way through her wishlist, Georgie begins to realize that what she truly wants might not be in the pages of her diary after all, but right by her side—if only they can both find a way to let go of the pasts that hold them back.

Honest and deeply emotional, Georgie, All Along is a smart, tender must-read for everyone who's ever wondered about the life that got away . . .

"Absolute perfection—this is the book you are looking for. Georgie All Along is a tour de force, beautifully written and full of charming characters, rich emotion, and delicious spice. With it, Kate Clayborn solidifies her place in romance royalty." —Sarah MacLean, New York Times bestselling author

"A modern yet timeless love story."—Kirkus Reviews, STARRED REVIEW

"Tender and sexy…features strong friendships and will appeal to fans of Emily Henry." —Library Journal, STARRED REVIEW
About the Author
---
Kate Clayborn is the critically acclaimed author of contemporary romance novels. Her work has been featured in The New York Times, The Washington Post, Oprah Magazine, Entertainment Weekly, Bookpage, and more. By day she works in education, and by night (and sometimes, by very early morning) she writes contemporary romances about smart, strong, modern heroines who face the world alongside true friends and complicated families. She resides in Virginia with her husband and their dog.
Praise For…
---
Praise for Georgie, All Along

"This is a book for plunging into, a river of feelings with an inescapable current. Even as you are swept away, you know Clayborn's hand is safely on the tiller, steering you expertly through the rapids." —New York Times

"Clayborn's stories always feel equally specific and universal, written with vulnerability, humor, and empathy, and this latest is no exception. Georgie and Levi each have an incredibly charged presence on the page as the story explores their individual narratives, but their differences allow them to forge an entirely perfect whole. A modern yet timeless love story." —Kirkus Reviews, STARRED REVIEW
 
"Told from alternating viewpoints, this tender and sexy contemporary romance from Clayborn also features strong friendships and will appeal to fans of Emily Henry." —Library Journal, STARRED REVIEW
 
"Clayborn spins a gentle tale of two people who set out to find themselves and stumble into love along the way…The smooth, vivid prose makes it easy to invest in the protagonists' well-rendered character growth. This introspective romance is a treat." —Publishers Weekly
 
"Clayborn is skilled at creating out-of-the-norm, captivating characters with nuanced finesse." —Booklist

"In the realistic and insightful romance novel Georgie, All Along, two people reinvent themselves—and ignite heat in the process." —Foreword Reviews
 
"A sweet novel that reminds you going back is sometimes the best path forward . . . and that planning is never as rewarding as doing." —Jodi Picoult, New York Times bestselling author
 
"Outright perfection! With every new Kate Clayborn novel, I think, 'This. It cannot possibly get better than this.' And then Georgie comes along and blows every other book out of the water. It is rare to fall in love with characters at the same pace and to the same depth that they do on the page, but Clayborn's writing is so immersive, so exuberant, it's a truly multisensory experience. A classic author writing in the modern age, Clayborn is in a league entirely her own. And Georgie, All Along is her best yet." —Christina Lauren, Kate Clayborn Fanclub Co-Presidents and Authors of The Soulmate Equation

"Absolute perfection—this is the book you are looking for. Georgie All Along is a tour de force, beautifully written and full of charming characters, rich emotion, and delicious spice. With it, Kate Clayborn solidifies her place in romance royalty." —Sarah MacLean, New York Times bestselling author

"Georgie, All Along is the best kind of love story: one where each character not only finds love, but finds themselves as well. Georgie Mulcahy is a delight, and the sweet and tender romance she finds, in the most unexpected of places, will make readers beam." —T. Greenwood, author of Such a Pretty Girl, Keeping Lucy, and Bodies of Water

"Sometimes I read a book and I wonder: how dare the author do this to me? Who gave them the right to write something so stunningly, radiantly perfect? And that was my experience with Georgie, All Along. Kate Clayborn's writing is magnetic and witty and expansive, and her characters feel as real and solid to me as my own limbs. The world is going to fall hard for this deliciously whimsical and captivating story, and I cannot wait to see it!" —Ali Hazelwood, New York Times bestselling author of The Love Hypothesis

"A unique love story." —Popsugar
 
"Kate Clayborn's books are some of the best of the genre because they grapple with life-changing inheritances, tense friendship breakups, and fraught parental relationships in parallel with the deeply felt romances." —Paste Magazine
 
"Kate Clayborn's gorgeously written romances are a perfect counterbalance to the current wave of high-concept rom-coms." —Bookpage
 
"Gorgeously written, full of complex characters, and friendships as strong as the central romance — all Clayborn staples." —Bookriot
 
"Georgie, All Along is a treat of a read, a wonderful story of love and self discovery to sink into and get lost in." —All About Romance


Praise for Kate Clayborn
  
"Constantly revealing new layers of lyricism…Love at First is poetry, then — sometimes an artful sonnet, other times halting free verse. But it's never anything short of miraculous." —Entertainment Weekly, Grade A for Love at First
 
"[Clayborn's novels are] absolute stunners, written in a warm, witty, complex voice… I was left with that warm, glowing love for humanity that is always what I'm chasing when I read this genre: the sense of togetherness, of hope, of even unsolvable problems feeling less impossible. Because a good romance lets you forgive the people on the page. A great romance lets you forgive people in general—and feel that maybe they even deserve it." —The New York Times on Love at First
  
"This is a gorgeously written romance with a line that perfectly sums up a truth for many a romance character (or human): We don't have to love the way we learned to love at first." —NPR on Love at First
  
"A novel of lush complexity, one bursting with humor, a tender melancholy, and meditations on love, friendship, and life, any reader can find solace and inspiration in. It's lyrical and engrossing, a novel that possesses all the colors, idiosyncrasies, and range of the alphabet. Like the pages Meg designs, Love Lettering is a novel bursting with hidden messages essential to discover-
-long as we open our hearts to analyze the codes." —Entertainment Weekly, A+ for Love Lettering
 
"Quirky and winning." —USA Today on Love Lettering
 
"Fresh, funny, clever, and deeply satisfying." —Kirkus Reviews, STARRED REVIEW on Love Lettering
 
"Love Lettering does much more than just give us a cute love story. The novel isn't just about love—it's about communication both in romantic relationships and in friendships." —Hypable on Love Lettering
 
"I flew through this creative and original book. I was completely absorbed by the world Kate Clayborn creates--the characters felt so real and their joys and sorrows and struggles and triumphs felt so relatable that I forgot I was reading fiction." —Jasmine Guillory, New York Times bestselling author of The Proposal on Love Lettering
 
"Love Lettering is delicious and beautiful and perfect." —New York Times bestselling author Sarah MacLean
 
"What if you and your two best friends all went in together on a winning lottery ticket? The romance between Kit, a no-nonsense scientist who dreams of her first real home, and Ben, a recruiter and builder (I promise, it works) is emotional and real. Plus, I adored Kit's strong relationship with her two best friends." —O, The Oprah Magazine, Best Romances of the Year, on Beginners Luck
 
"A warm and lively romance" —The New York Times on Luck of the Draw
 
"Clayborn's characters are bright and nuanced, her dialogue quick and clever, and the world she builds is warm and welcoming." —The Washington Post, 5 Best Romances of the Year for Luck of the Draw
 
"This book is hilarious and moving and sexy, with a focus on strong female friendship, guilt that's hard to let go of, and one of the most realistic, and ultimately romantic, fake fiance´setups I've ever read." —Buzzfeed, Best Romances of the Year, on Luck of the Draw
 
"Despite all the time we spend tethered to screens, the truth is that humans live with technology, not in it—at least for now. Kate Clayborn's Love Lettering is a flawless representation of that truth...a lush, languid romance that merges the nostalgic past with the technological present." —The Washington Post on Love Lettering
  
"Clayborn explores the experience of falling in love in a Chicago apartment building in a contemporary romance that will resonate with city dwellers and rural readers alike…A superb cast of characters rounds out this sweet, slow-burn romance." —Booklist on Love at First
  
"A Mary Balogh–style love story…The comforting rewrite of Romeo and Juliet you didn't know you needed." —Kirkus Reviews on Love at First

"Clayborn employs her signature combination of past emotional wounds and tender blossoms of hope to gradually twine her two protagonists together, allowing them to—temporarily—live in denial even as they fall deeply in love. Her beautiful prose is full of a softness and depth that lingers—passages beg to be reread and savored—while moments of humor and gently smoldering passion lift what might otherwise be a slow and overly sentimental read. Perfect for fans of Christina Lauren and Emily Henry, Love at First feels like a long, warm hug upon returning home." —Shelf Awareness on Love at First