Death by Chocolate Malted Milkshake (A Death by Chocolate Mystery #2) (Paperback)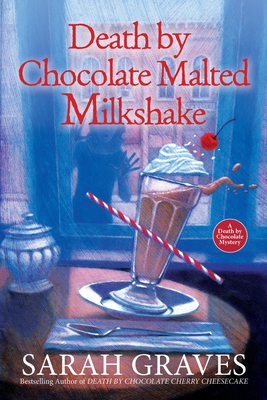 $15.95

OUT OF STOCK - Available to order
Other Books in Series
This is book number 2 in the A Death by Chocolate Mystery series.
Description
---
Eastport, Maine, has plenty of salty local character. It also has a sweet side, thanks to Jacobia "Jake" Tiptree, her best friend Ellie, and their waterfront bake shop, The Chocolate Moose. But when island life is disrupted by the occasional killer, Jake and Ellie put their chocolate treats aside to make sure justice is served.
 
This summer, Eastport's favorite lovebirds, kindergarten teacher Sharon Sweetwater and Coast Guard Captain Andy Devine, are getting married. The gala reception is sure to be the fête of the season, especially with a wedding-cake-sized whoopie pie courtesy of The Chocolate Moose. For Jake and Ellie, the custom-ordered confection will finally reel in some much-needed profits. But the celebratory air, and sweet smell of success, are ruined when Sharon's bitter ex-boyfriend Toby is murdered with a poisoned milkshake. With Andy jailed as the prime suspect and the wedding cancelled, it's up to Jake and Ellie to catch a poisonous predator before someone else sips their last dessert.
 
Includes a Recipe!

  "Graves' second case of chocolate murder offers fans of the genre a trifecta of coziness: plucky heroines, sweet treats, and just enough puzzlement to keep you on your toes."
—Kirkus Reviews

"Lively characters, an intricate plot, and enticing descriptions of Down East Maine make this cozy a winner."
—Publishers Weekly 
About the Author
---
Sarah Graves lives in Eastport, Maine, in a 200-year-old house much like Jake Tiptree's. After 20 years of home repair—and yes, it really does make you think about murder!—she has handed in her toolbox and returned to her first love: chocolate. When she's not cooking or baking something delectable, or writing about it, she tends a huge garden or shovels snow, depending upon the season.
Praise For…
---
Praise for Death by Chocolate Malted Milkshake:

"Graves' second case of chocolate murder offers fans of the genre a trifecta of coziness: plucky heroines, sweet treats, and just enough puzzlement to keep you on your toes." – Kirkus Reviews

"Lively characters, an intricate plot, and enticing descriptions of Down East Maine make this cozy a winner." - Publishers Weekly 

"The various friendships and close family relationships of the well-drawn characters provide much of the appeal here, augmented nicely by the baking details and the vividly described small-town setting. Recommend this to readers of Leslie Meier's Lucy Stone cozies and to those who enjoy mysteries with a baking frame." --Booklist

"Chocolate gets a side of murder…With beloved characters and a treat of a mystery, this will tickle cozy fans' fancy." –Parkersburg News & Sentinel

"Murder is delicious in Sarah Graves' fictional version of Eastport, Maine." --Maine Sunday Telegram

"The story's suspense, clues, red herrings and action scenes are well worth it. Have somebody taste test that next chocolate milkshake, just in case." --Kennebec Journal/Morning Sentinel

Praise for Sarah Graves' previous mystery, Death by Chocolate Cherry Cheesecake:

"Jacobia "Jake" Tiptree, the star of Graves's Home Repair Is Homicide series…is back in this charming series launch….The characters are appealing, and down east Maine is a delightful place to visit. Graves fans will enjoy catching up with old friends." —Publishers Weekly 

"Sympathetic characters, effective plot twists, a vividly described small-town Maine setting, and the baking frame add to this satisfying cozy that will appeal to fans of Joanne Fluke and Diane Mott Davidson (for the baking details) and Leslie Meier (for the Maine setting)." —Booklist

"As her handywoman heroine reinvents herself in chocolate, Graves adds enough physical danger to her comfy tale of small-town mayhem to move it into the…range of the cozy thriller. Gives new currency to the phrase "baking up a storm." —Kirkus Reviews

"Fans of [Graves'] Home Repair is Homicide series, will be delighted….Graves' new series is a welcome return to Eastport and the long familiar characters that continue to please, but this time with a recipe at the end that will please even more." –Maine Quoddy Times
 
"Returning fans will appreciate the character growth and development featured throughout the new book, and the opportunity to catch up with some fan-favorite minor characters….Graves attributes her own fondness and predilection for baking to her mother and grandmother, from whom she retains recipes."—Maine News Observer
 
"An inherently compelling read from cover to cover and will prove to be an enduringly popular addition to community library Mystery/Suspense collections." –Midwest Book Review
 
"The mystery is a good one…readers will be happy to see [Jake and Ellie's] new adventure…And yes, Ellie shares her grandmother's recipe for Chocolate Cherry Cheesecake.  The cover art alone is enough to make you crave a big slice." –Kings River Life
 
"DEATH BY CHOCOLATE CHERRY CHEESECAKE launches a new series in the hands of an expert.  Fans will welcome the return of Jake and Ellie, while new readers can jump into this book with no qualms." –Mystery Reader's Journal
 
"Fans of the previous series will love this spin-off, new readers will fall for these characters too after reading this book…. I am looking forward to future stories with Jake and Ellie." –Escape with Dollycas 
"Chocolate gets a side of murder…With beloved characters and a treat of a mystery, this will tickle cozy fans' fancy." –Parkersburg News & Sentinel