Death by Chocolate Cherry Cheesecake (A Death by Chocolate Mystery #1) (Paperback)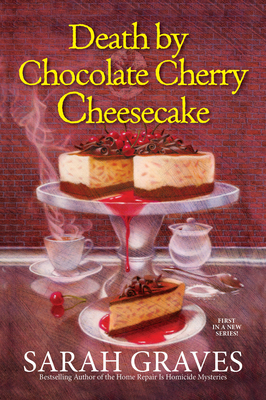 Other Books in Series
This is book number 1 in the A Death by Chocolate Mystery series.
Description
---
Life just got a little sweeter in the island fishing village of Eastport, Maine. Jacobia "Jake" Tiptree and her best friend Ellie are opening a waterfront bake shop, The Chocolate Moose, where their tasty treats pair perfectly with the salty ocean breeze—and the scent of murder . . .
 
When Jake and Ellie, who've been through a lot together, decide to open a chocolate-themed bakery, they figure it'll be a piece of cake. With Ellie's old family recipes luring in customers, they expect to make plenty of dough this Fourth of July weekend. Having family home for the holiday only sweetens the deal for Jake—until an early-season hurricane scuttles her plans. Worse, with her family scattered and stranded, health inspector Matt Muldoon is found murdered in the kitchen of The Chocolate Moose.
 
Ellie never made a secret of her distaste for Matt, who had been raining on their parade with bogus talk of health code violations. Now, with no alibi for the night of the murder, she's in a sticky situation—and it's up to Jake to catch the real killer and keep Ellie living in the land of the free.
 
Includes a Recipe!
 

Praise for Sarah Graves and her Home Repair Is Homicide Mysteries!  

"Graves blends charming, evocative digressions about life in Eastport with an intricate plot, well-drawn characters and a wry sense of humor."—Publishers Weekly on Dead Cat Bounce
 
"For fans who enjoy nooks, crannies, subplots, and carpentry tips."—Kirkus Reviews on Nail Biter
About the Author
---
Sarah Graves lives in Eastport, Maine, in a 200-year-old house much like Jake Tiptree's. After 20 years of home repair—and yes, it really does make you think about murder!—she has handed in her toolbox and returned to her first love: chocolate. When she's not cooking or baking something delectable, or writing about it, she tends a huge garden or shovels snow, depending upon the season.
Praise For…
---
"Jacobia "Jake" Tiptree, the star of Graves's Home Repair Is Homicide series…is back in this charming series launch….The characters are appealing, and down east Maine is a delightful place to visit. Graves fans will enjoy catching up with old friends." —Publishers Weekly 

"Sympathetic characters, effective plot twists, a vividly described small-town Maine setting, and the baking frame add to this satisfying cozy that will appeal to fans of Joanne Fluke and Diane Mott Davidson (for the baking details) and Leslie Meier (for the Maine setting)." —Booklist

"As her handywoman heroine reinvents herself in chocolate, Graves adds enough physical danger to her comfy tale of small-town mayhem to move it into the…range of the cozy thriller. Gives new currency to the phrase "baking up a storm." —Kirkus Reviews

"Fans of [Graves'] Home Repair is Homicide series, will be delighted….Graves' new series is a welcome return to Eastport and the long familiar characters that continue to please, but this time with a recipe at the end that will please even more." –Maine Quoddy Times
 
"Returning fans will appreciate the character growth and development featured throughout the new book, and the opportunity to catch up with some fan-favorite minor characters….Graves attributes her own fondness and predilection for baking to her mother and grandmother, from whom she retains recipes."—Maine News Observer
 
"An inherently compelling read from cover to cover and will prove to be an enduringly popular addition to community library Mystery/Suspense collections." –Midwest Book Review
 
"The mystery is a good one…readers will be happy to see [Jake and Ellie's] new adventure…And yes, Ellie shares her grandmother's recipe for Chocolate Cherry Cheesecake.  The cover art alone is enough to make you crave a big slice." –Kings River Life
 
"DEATH BY CHOCOLATE CHERRY CHEESECAKE launches a new series in the hands of an expert.  Fans will welcome the return of Jake and Ellie, while new readers can jump into this book with no qualms." –Mystery Reader's Journal
 
"Fans of the previous series will love this spin-off, new readers will fall for these characters too after reading this book…. I am looking forward to future stories with Jake and Ellie." –Escape with Dollycas