Welcome to Word After Word Books!
Bad Tourist: Misadventures in Love and Travel (Paperback)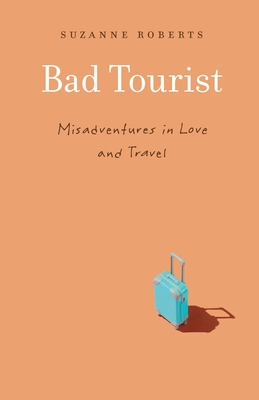 Description
---
2021 Independent Publisher Book Awards, Gold Medal Winner 
2021 National Indie Excellent Awards Finalist 
2020 Bronze Award for Travel Book or Guide from the North American Travel Journalists Association 
2020 Bronze Winner for Travel in the Foreword INDIES

Both a memoir in travel essays and an anti-guidebook, Bad Tourist takes us across four continents to fifteen countries, showing us what not to do when traveling. A woman learning to claim her own desires and adventures, Suzanne Roberts encounters lightning and landslides, sharks and piranha-infested waters, a nightclub drugging, burning bodies, and brief affairs as she searches for the love of her life and finally herself.

Throughout her travels Roberts tries hard not to be a bad tourist, but owing to her cultural blind spots, things don't always go as planned. Fearlessly confessional, shamelessly funny, and wholly unapologetic, Roberts offers a refreshingly honest account of the joys and absurdities of confronting new landscapes and cultures, as well as new versions of herself. Raw, bawdy, and self-effacing, Bad Tourist is a journey packed with delights and surprises—both of the greater world and of the mysterious workings of the heart.
About the Author
---
Suzanne Roberts is the author of Almost Somewhere: Twenty-Eight Days on the John Muir Trail (Nebraska, 2012) and four collections of poetry. She was named the Next Great Travel Writer by National Geographic's Traveler, and her work has been published in Best Women's Travel Writing and listed as Notable in Best American Essays. She teaches for the low-residency MFA program in creative writing at Sierra Nevada University. Visit her website: suzanneroberts.net.
Praise For…
---
"In this collection of essays, Roberts recounts her adventures while traveling mostly solo to 15 countries. Along the way she navigates mishaps both large and small, from a dangerous mudslide in Peru to a tricky romantic entanglement in Greece. Each experience offers a chance to probe her inner 'bad tourist,' as she wrestles with issues of privilege, cultural blind spots, and her own insecurities on a journey to self-discovery."—National Geographic

"Replete with harrowing and laugh out loud accounts of misadventures at home and abroad, Suzanne Roberts's Bad Tourist collects entertaining stories from around the world. . . . Authentic, surprising, and irresistible, Bad Tourist is a travel text worth getting lost in."—Foreword Reviews

"Roberts has spent decades circling the globe, chasing experience, understanding, and identity. This book is the culmination of her young adulthood on the move."—Courtney Eathorne, Booklist

"This would be a good pick for anyone that loves travel, misses traveling in these days of quarantine, or would like something different. This is a collection of love stories to old friends, lovers, her mother, new friends from her travels, discovered lands and cultures, and to herself."—alissacmiles.com

"Named Next Great Travel Writer by National Geographic's Traveler, Roberts handily fits the distinction with memories, images, and insights that put readers in the seat beside her or hiking up a too-close-for-comfort volcanic slope—all the while providing a sort of anti-guidebook unapologetically illustrating what not to do."—Donna McCrohan Rosenthal, News Review

"A fast-paced, smart and very enjoyable book."—Melissa Oliveira, Hippocampus Magazine

"I love travel, armchair and otherwise, so I knew it would be a pleasure letting Suzanne Roberts take me around the world on a shoestring, from India's Grand Elephant Festival, to the steppes of Mongolia on the trail of Genghis Khan, to the cool tiles of another one-star bathroom wondering if this would be the time she'd puke herself to death. Even more satisfying are her honesty, courage, and eventual clarity as she tackles her own understories—family dysfunction and alcoholism, internalized misogyny, and what the climate catastrophe means for the travel addicted among us—combining these essays into a thoroughly relatable journey of the heart."—Pam Houston, author of Deep Creek: Finding Hope in the High Country

"If Michel de Montaigne and Chelsea Handler could get together in a bar in some far-flung part of the world and get good and drunk, they might dream up a book like this. This is not your parents' travel writing! If you're thirsting for a literary triple shot of sex, booze, and misadventures, Bad Tourist is your passport to a trip you won't want to come home from."—Michael P. Branch, author of Rants from the Hill and How to Cuss in Western

"Bad Tourist makes beautiful the absurdity and heartbreak accompanying us whenever we leave home. Roberts's intimate, fiercely honest narrative voice imbues these realities with grace and demonstrates just how much is to be gained by living a life in the present tense."—Kathryn Miles, author of Quakeland: On the Road to America's Next Devastating Earthquake

"These thoughtful, hilarious, lusty essays will either have you renewing your passport or blowtorching it for good. Suzanne Roberts may be a bad tourist, but she's one hell of a great writer."—Gayle Brandeis, author of The Art of Misdiagnosis