Mr Hare meets Mr Mandela (Abridged / Paperback)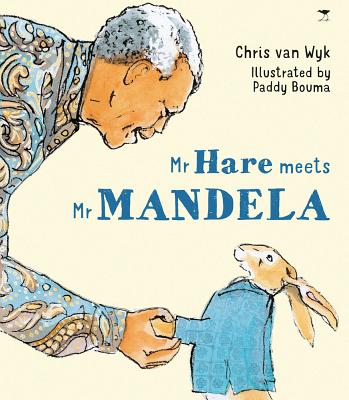 $11.95
Email or call for price.
Description
---
'Van Wyk said he wanted to be read by everyone; by those about whom he wrote and by those who found his own culture foreign; he chose to write in several genres because "I could".' – Mail & Guardian, Maureen Isaacson
'Kids loved him [Chris van Wyk] – he visited schools all around the country to tell stories and get kids reading. He simply captivated them.' – Daily Maverick, J Brooks Spector
Mr Hare meets Mr Mandela is one of the last stories Chris van Wyk wrote before he died and it originally appeared in Sunday Times Storytime: 10 South African Stories for
Children.
Mr Hare finds a R200 note on his doorstep. When he turns the note over he sees Mr Mandela's face and decides to brave the big city of Johannesburg to return it to
Mr Mandela. But Mr Hare cannot read and he comes across many people along the way who want to get their hands on Mr Mandela's money. Mr Hare also cannot work out why the note keeps changing colour!
The book is available in English, Afrikaans, isiXhosa and isiZulu.
About the Author
---
Chris van Wyk was a much-loved South African poet and writer who was born in Soweto in 1957 and passed away on 3 October 2014. In 2009, Van Wyk abridged Nelson Mandela's autobiography, Long Walk to Freedom, to create a picture book (also illustrated by Paddy Bouma) for young children. He also authored numerous books for children throughout his life and was a strong advocate of reading for young and old. Chris van Wyk was always at pains to express the humour and the sadness of life through his stories, and was determined from an early age to become a writer. His dedication to his craft and his activism continued from his early days at Sached (South African Committee for Higher Education), as the editor of the Ravan Press literary journal Staffrider, and as a full-time writer, all the while continuing to publish his works and speaking to readers around the country.