The 28 Laws of Attraction: Stop Chasing Success and Let It Chase You (Paperback)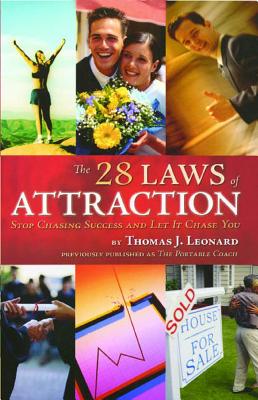 Description
---

In the Bestselling Tradition of The Secret:
Master the Universal Laws of Attracting Success


Would you like to learn how to recognize a good opportunity when it presents itself to you? Do you want to discover your true passions and make them work for you? Would you like to find the people in your life who can help you achieve your goals, dreams, and aspirations? Do you find yourself wishing you had more time with your family and friends? If you've been seeking fulfillment and felt that it has always eluded you, these 28 Laws will show you how to stop chasing success and let it chase you.

With Thomas Leonard's time-tested, power-packed system, you will learn how to maximize the brilliance and energy you already possess to create a thoroughly satisfying life based on what's best about you. As you apply these 28 Laws, you'll gain the ability to define what success is for you, and learn how to attract the things that matter the most in life.
About the Author
---
Thomas J. Lleonard (1955-2003) was the founder of CoachVille, the world's largest association and training school for personal development and corporate coaches. Through Thomas's leadership, CoachVille has grown to 9,400 members in more than seventy countries across the globe. With input from over 1,000 members of the CoachVille Research & Development Team, Thomas originated The 28 Laws of Attraction -- a comprehensive program composed of top coaching models, e-courses, and teleclasses on personal growth and development. Thomas's work has been featured in more than 200 media outlets since 1996, including Newsweek, Time, Fortune, NBC Nightly News, Los Angeles Times, and The London Times.
Praise For…
---
Richard Brodie Author of Getting Past OK and Virus of the Mind Thomas Leonard is the Vince Lombardi of personal coaching. When you read The Portable Coach, you won't simply be awestruck by the sheer quantity of practical, immediately usable coaching advice -- you'll want to share it with everybody you work with, live with, play with....