Word After Word Books and Rock Cellar Records
are located in historic Downtown Truckee.
Something Borrowed, Someone Dead (Large Print / Hardcover)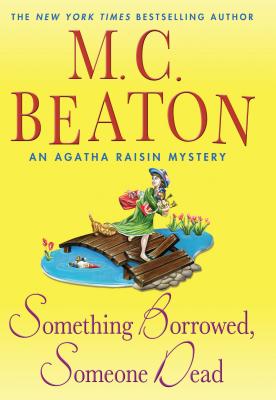 Description
---
Gloria French was a jolly widow with dyed blonde hair, a raucous laugh and rosy cheeks. When she first moved from London to the charming Cotswolds hills, she was heartily welcomed. She seemed a do-gooder par excellence, raising funds for the church and caring for the elderly. But she had a nasty habit of borrowing things and not giving them back, just small things, a teapot here, a set of silverware there. So it's quite the shock when she is found dead, murdered by a poisoned bottle of elderberry wine. Afraid the murder will be a blight on the small town, Parish councillor, Jerry Tarrant, hires private detective Agatha Raisin to track down the murderer.
But the village is secretive and the residents resent Agatha's investigation. Of course that doesn't stop the ever-persistent Agatha from investigating and sticking her nose where no one wants it--especially as the suspect list grows. And, as if it isn't enough that Agatha's ex has reentered the picture, the murderer is now targeting Agatha
With M.C. Beaton's "Something Borrowed, Someone Dead "the bossy, vain, and absolutely irresistible, Agatha Raisin continues to be a fan favorite.
About the Author
---
M. C. BEATON, who was the British guest of honor at Bouchercon 2006, has been hailed as the "Queen of Crime" ("The Globe and Mail"). In addition to her "New York Times "and "USA Today "bestselling Agatha Raisin novels, Beaton is the author of the Hamish Macbeth series and four Edwardian mysteries. Born in Scotland, she currently divides her time between the English Cotswolds and Paris.