Rick Riordan Presents Serwa Boateng's Guide to Vampire Hunting (A Serwa Boateng Novel, Book 1) (Hardcover)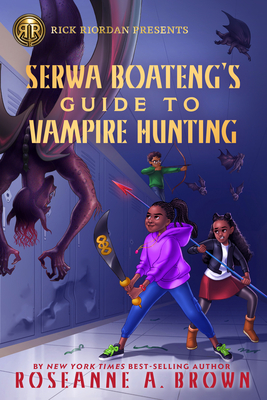 $17.99

On Our Shelves Now - Holiday Shipping Not Guaranteed
Staff Reviews
---
Ghana mythology is at the heart of this fun and fast-paced adventure. Serwa and her family are vampire hunters but when a new threat appears, her parents send Serwa to a safe place with relatives. But, a vampire appears at school and now Serwa has to recruit & train her new friends to face the threat.
— From
Kids & Teens
Description
---
Best-selling author Rick Riordan presents best-selling YA author Roseanne A. Brown's middle grade debut about a pre-teen vampire slayer with a strong helping of Ghanaian folklore.

For most kids, catching fireflies is a fun summer activity. For twelve-year-old Serwa Boateng, it's a matter of life and death.

That's because Serwa knows that some fireflies are really adze, shapeshifting vampires from the forests of Southeastern Ghana. Adze prey on the blood of innocents, possessing their minds and turning them into hulking monsters, and for generations, slayers like Serwa and her parents have protected an unknowing public from their threats.

Serwa is the best adze slayer her age, and she knew how to use a crossbow before she could even ride a bike. But when an obayifo (witch) destroys her childhood home while searching for a drum, do Serwa's parents take her with them on their quest to defeat her? No. Instead, they dump Serwa with her hippie aunt and cryptic-obsessed cousin in the middle of Nowheresville, Maryland "for her own safety." Now, instead of crossbows and battle armor, she's dealing with mean girls and algebra, and for the first time in her life she doesn't have to carry a staff everywhere she goes, which is . . . kind of nice, actually.

Just as Serwa starts to get the hang of this whole normal girl who doesn't punch vampires every day thing, an adze infiltrates her school. It's up to her to whip some of her classmates into monster-fighting shape before all of them become firefly food. And when she uncovers a secret that upends everything she thought she knew about her family's role in the slayer vs. adze war, Serwa will have to decide which side of herself--normal girl or slayer--is the right one.

After all, seventh grade is hard enough without adding vampires to the mix.

Endorsed by Rick Riordan, author of Percy Jackson and the Olympians, soon to be a series on Disney+.

Complete your middle grade action-adventure collection with these titles:
Rick Riordan Presents: Tristan Strong Punches a Hole in the Sky by Kwame Mbalia
Rick Riordan Presents: The Storm Runner by J.C. Cervantes
Rick Riordan Presents: Race to the Sun by Rebecca Roanhorse
Rick Riordan Presents: Pahua and the Soul Stealer by Lori M. Lee
Percy Jackson and the Olympians: The Lightning Thief by Rick Riordan


About the Author
---
Roseanne "Rosie" A. Brown was born in Kumasi, Ghana and immigrated to the wild jungles of central Maryland as a child. Writing was her first love, and she knew from a young age that she wanted to use the power of writing to connect the different cultures she called home. She worked as an assistant teacher, journalist, and editorial intern before writing her first two young adult novels, A Song of Wraiths and Ruin, an instant New York Times best-seller, and A Psalm of Storms and Silence. This is her middle grade debut, and it will be followed by Serwa Boateng's Guide to Witchcraft and Mayhem. Rosie currently lives outside Washington, D.C., where she can usually be found explaining memes to her elderly relatives or thinking about Star Wars. She can neither confirm nor deny if she has ever been possessed by a vampire. Follow her on Twitter @rosiesrambles.
Praise For…
---
"Serwa Boateng's Guide to Vampire Hunting is a thrilling middle grade adventure with a fresh take on vampires and characters that you will not only root for but love with all your heart. This novel had a hold on me from page one. Roseanne really knocked it out of the park!"—Claribel A. Ortega, New York Times best-selling author of Witchlings

"Move over, Buffy! Slide aside, Van Helsing! There's a new slayer in town. Sharp wit and sharp swords will have readers rooting for Serwa!"—Kwame Mbalia, New York Times best-selling author of Tristan Strong Punches a Hole in the Sky

"Rosie writes her characters with such lyrical power, wit, and empathy that you can't help falling in love with Serwa Boateng, her family, and her friends."—Rick Riordan, New York Times best-selling author of the Percy Jackson series