Welcome to Word After Word Books!
Guarding the Invisible Dragons: A Branches Book (Dragon Masters #22) (Paperback)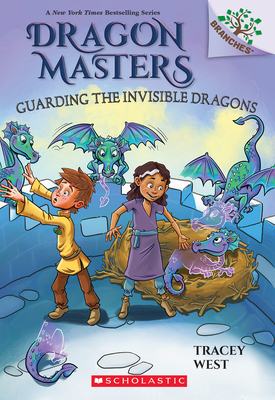 Description
---
Drake and the other Dragon Masters must help save a nest of baby Invisible Dragons in the latest action-packed installment of this New York Times bestselling series!
Pick a book. Grow a Reader!
This series is part of Scholastic's early chapter book line, Branches, aimed at newly independent readers. With easy-to-read text, high-interest content, fast-paced plots, and illustrations on every page, these books will boost reading confidence and stamina. Branches books help readers grow!
A nest of baby Invisible Dragons has been discovered in Aragon and the babies' parents are nowhere to be found! The baby dragons need to eat the fruit from the magical Dragon Tree to keep their invisible powers. But the tree grows on the dangerous Dove Island… Drake, Worm, and Carlos' cousin Val must travel there to find the baby dragons' parents and the fruit before the baby dragons lose their powers forever! Also, one of the baby dragons forms a close bond with Val. Could Val be a Dragon Master?
With engaging black-and-white artwork on every page, kids won't be able to put down this action-packed adventure!
About the Author
---
MATT LOVERIDGE likes to draw subjects that expose the lighter side of life, so he loves illustrating children's books! He's the illustrator of Dragon Masters. Matt lives in Utah with his beautiful, supportive wife and their three rambunctious kids (who are a constant source of inspiration!).
Tracey West is the author of the New York Times bestselling series Dragon Masters, for Scholastic Branches. She has written more than 400 books for children, including the Underdogs series, illustrated by Kyla May; the Pixie Tricks series, illustrated by Xavier Bonet, and the perennially popular Pokémon chapter books. She lives with her husband, adopted dogs, and chickens in the western Catskill mountains of New York State.
Praise For…
---
A New York Times bestselling series!
Praise for Rise of the Earth Dragon (Dragon Masters #1):
"In this first of the Dragon Masters series, vocabulary is accessible; sentences, paragraphs, and chapters are short; and dialogue moves the story along rapidly. Black-and-white sketch-type drawings add depth to the story and feelings to the characters (both children and dragons). Emergent readers will find happy success here." -- Booklist
"The first of a new series of early chapter books, this entry is sure to attract fans. Brief chapters, large print, lots of action, attractive illustrations in every spread including a maplike panorama, an enviable protagonist -- who wouldn't want to be a Dragon Master? -- all combine to make an entertaining reader. With plenty left to be resolved, the next entry will be eagerly sought after." -- Kirkus Reviews