"If You Lean In, Will Men Just Look Down Your Blouse?": Questions and Thoughts for Loud, Smart Women in Turbulent Times (Hardcover)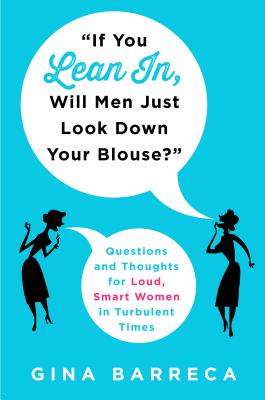 Description
---
Gina Barreca is fed up with women who lean in, but don't open their mouths. In her latest collection of essays, she turns her attention to subjects like bondage, which she notes now seems to come in fifty shades of grey and has been renamed Spanx. She muses on those lessons learned in Kindergarten that every woman must unlearn, like not having to hold the hand of the person you're waking next to (especially if he's a bad boyfriend) or needing to have milk, cookies and a nap every day at 3:00 PM (which tends to sap one's energy not to mention what it does to one's waistline). She sounds off about all those things a woman hates to hear from a man, like "Calm down" or "Next time, try buying shoes that fit".
"'If You Lean In, Will Men Just Look Down Your Blouse?'" is about getting loud, getting love, getting ahead and getting the first draw (or the last shot). Here are tips, lessons and bold confessions about bad boyfriends at any age, about friends we love and ones we can't stand anymore, about waist size and wasted time, about panic, placebos, placentas and certain kinds of not-so adorable paternalism attached to certain kinds of politicians.
The world is kept lively by loud women talking and "'If You Lean In, Will Men Just Look Down Your Blouse?'" cheers and challenges those voices to come together and speak up. You think she's kidding? Oh, boy, do you have another thing coming.
About the Author
---
GINA BARRECA, Professor at UConn, wrote Babes in Boyland, They Used to Call Me Snow White but I Drifted and co-authored I'm With Stupid: One Man, One Woman, and 10,000 Years of Misunderstandings Between The Sexes Cleared Right Up with Pulitzer Prize winner Gene Weingarten. She grew up in Brooklyn, NY but now lives in Storrs, CT. Go figure.
Praise For…
---
Praise for "If You Lean In, Will Men Just Look Down Your Blouse?":
"Gina Barreca's essays are like dispatches from a dear friend: Wonderful, witty, heartfelt and wise - with many memorable zingers and tear inducing stingers. Her gift is one of connection and her work is relatable and true. Share this book with your sisters and your BFF (Brainy Friends and Feminists) book group." - Amy Dickinson, author of the nationally syndicated column "Ask Amy"
"If you ever find that your best gal pal isn't available, you need look no further than Barreca's book. It contains everything a good friend would provide: honesty, insight, female camaraderie, and a lot of laughs." - Rachel Dratch
"Barrecaville turns out to be a very funny place. In it, bad boyfriends are good: They remind us that, just as there are significant others, so, too, are there insignificant others. With that tiny twist of language, she seizes something that was right in front of us the whole time but we couldn't grasp….Despite all the rowdiness, Barreca's erudition pokes through every page. She romps across the literary landscape…" - Psychology Today
"Barreca's mix of personal essays, lists, and advice column-style interludes is laugh-out-loud funny (literally...)." - Elle's Lettres Readers' Prize, June 2016
"[Barreca] created a beautiful, entertaining and touching essay that opens up women's leadership issues and workforce equities and inequities in a way Sandberg's book cannot, because the billionaire CEO writes from a different place of greater privilege and power. We hardworking women should all have this book (and Barreca's others as well!) on our shelf, as a drop-in, cheer up, think a bit, and get back to work…" - Leadership Spirit, Carol Burbank, Ph.D.
Praise for It's Not That I'm Bitter...:
"Gina Barreca is very, very funny. For a woman." —Dave Barry on It's Not That I'm Bitter
"From spotting chin hairs in a rear-view mirror to finding a bra that never fits, the book is 120-mph humor!" —Cindy Adams, The New York Post on It's Not That I'm Bitter
"Many readers, especially women, will enjoy, discuss, and reread this quick, breezy work of commentary, a book that stirs up dust long after its covers are closed." —Booklist on It's Not That I'm Bitter