Welcome to Word After Word Books!
Cinnamon and Gunpowder: A Novel (Paperback)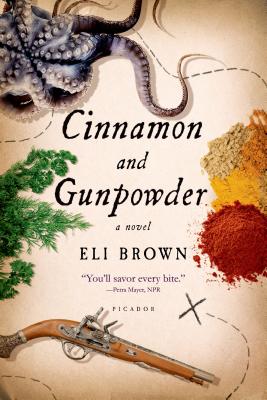 $19.00

OUT OF STOCK - Available to order
July 2013 Indie Next List
---
"A swashbuckling story is always fun, especially when it includes a gourmet chef on board. Mad Hannah Mabbot, tall, red-headed pirate kidnaps a Lord's chef, Owen Wedgewood, and tells him he must cook for her once a week. Highly entertaining in spite of the cruel methods of the day and the suffering caused by the Opium smuggling between China and England, which Hannah is determined to stop. A supporting cast of characters that will 'shiver your timbers' and Owen's weekly meals for Hannah are an absolute riot - Owen has little in the way of ingredients and his kitchen, or galley, is miniscule and lacking in everything needed to cook gourmet meals. Read this and learn who Mr. Apples, Joshua, and The Brass Fox are and how they play a role in this wonderfully thrilling story of pirates on the high seas and in the kitchen! Exciting and a true delight."
— Susan Wasson, Bookworks, Albuquerque, NM
Description
---
Eli Brown's Cinnamon and Gunpowder is a gripping adventure, a seaborne romance, and a twist on the tale of Scheherazade—with the best food ever served aboard a pirate's ship

The year is 1819, and the renowned chef Owen Wedgwood has been kidnapped by the ruthless pirate Mad Hannah Mabbot. He will be spared, she tells him, as long as he puts exquisite food in front of her every Sunday without fail.

To appease the red-haired captain, Wedgwood gets cracking with the meager supplies on board. His first triumph at sea is actual bread, made from a sourdough starter that he leavens in a tin under his shirt throughout a roaring battle, as men are cutlassed all around him. Soon he's making tea-smoked eel and brewing pineapple-banana cider.

But Mabbot—who exerts a curious draw on the chef—is under siege. Hunted by a deadly privateer and plagued by a saboteur hidden on her ship, she pushes her crew past exhaustion in her search for the notorious Brass Fox. As Wedgwood begins to sense a method to Mabbot's madness, he must rely on the bizarre crewmembers he once feared: Mr. Apples, the fearsome giant who loves to knit; Feng and Bai, martial arts masters sworn to defend their captain; and Joshua, the deaf cabin boy who becomes the son Wedgwood never had.

Cinnamon and Gunpowder is a swashbuckling epicure's adventure simmered over a surprisingly touching love story—with a dash of the strangest, most delightful cookbook never written. Eli Brown has crafted a uniquely entertaining novel full of adventure: the Scheherazade story turned on its head, at sea, with food.

An NPR Best Book of the Year (2013)
About the Author
---
Eli Brown lives on an experimental urban farm in Alameda, California. His writing has appeared in The Cortland Review and Homewrecker: An Adultery Reader. His first novel, The Great Days, won the Fabri Literary Prize.
Praise For…
---
"Food porn and rip-roaring pirate adventure are two great tastes that taste great together in Eli Brown's rollicking Cinnamon and Gunpowder." —Petra Mayer, NPR.org

"In the meantime, an unlikely respect blossoms between captive and captain. Quirky characters combined with the adventure of the high seas make for a novel unlike any other you've read." —BookPage

"[An] early 19th-century tale of culinary seduction and swashbuckling antics, featuring characters who evoke the desperate ingenuity of Scheherazade and the hell-bent ruthlessness of Ahab . . . Brown explores the mysteries of flavor with prose that any word-savoring foodie will delight in . . . The story, the characters, and the ingenious battle scenes are far too colorful for moral dilemmas, which are made irrelevant when Mabbot is revealed as something of a humanitarian out to reset the wrongs of British imperialism." —Publishers Weekly

"Brown concocts a clever tale in which history, ethics, action, and romance blend harmoniously. Tantalizing descriptions of the smells and flavors of the dishes Wedgwood creates may send readers running to their spice cabinets in search of the blends he exalts in, even as they are entranced by Brown's delectable tale." —Amber Peckham, Booklist

"Cinnamon and Gunpowder reads like Joss Whedon and Patrick O'Brian sailed to Copenhagen together and, after surviving a ninja attack and firefight at sea, fell in love over a seven-course meal at Noma." —Julie Powell, author of Julie and Julia

"Both sizzling and swashbuckling." —Kirkus Reviews

"Eli Brown's Cinnamon and Gunpowder [is] a most unusual sophomore effort featuring a pirate queen and a kidnapped chef. Think Babette's Feast meets Pirates of the Caribbean!" —Wilda Williams, Library Journal

"Accomplished and enormously powerful." —The Philadelphia Inquirer on The Great Days

"With lyrical, confident prose, Brown makes August's dark journey a harrowing, convincing look into the heart of cult life that should linger with readers." —Publishers Weekly on The Great Days