Holy Sister (Book of the Ancestor #3) (Mass Market)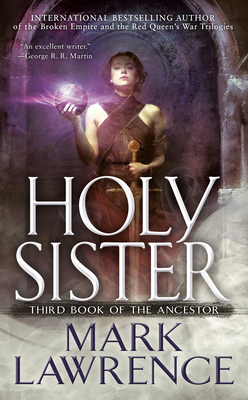 Description
---
The searing conclusion of the thrilling epic fantasy trilogy that saw a young girl trained by an arcane order of nuns grow into the fiercest of warriors...

They came against her as a child. Now they face the woman. 

The ice is advancing, the Corridor narrowing, and the empire is under siege from the Scithrowl in the east and the Durns in the west. Everywhere, the emperor's armies are in retreat. 

Nona Grey faces the final challenges that must be overcome if she is to become a full sister in the order of her choice. But it seems unlikely that she and her friends will have time to earn a nun's habit before war is on their doorstep. 

Even a warrior like Nona cannot hope to turn the tide of war.

The shiphearts offer strength that she might use to protect those she loves, but it's a power that corrupts. A final battle is coming in which she will be torn between friends, unable to save them all. A battle in which her own demons will try to unmake her. 

A battle in which hearts will be broken, lovers lost, thrones burned.
About the Author
---
Mark Lawrence was born in Champaign-Urbana, Illinois, to British parents but moved to the UK at the age of one. After earning a PhD in mathematics at Imperial College London, he went back to the US to work on a variety of research projects, including the "Star Wars" missile-defense program. Since returning to the UK, he has worked mainly on image processing and decision/reasoning theory. He never had any ambition to be a writer, so he was very surprised when a half-hearted attempt to find an agent turned into a global publishing deal overnight. His first trilogy, The Broken Empire, has been universally acclaimed as a groundbreaking work of fantasy, and both Emperor of Thorns and The Liar's Key have won the David Gemmell Legend Award for best fantasy novel. Mark is married, with four children, and lives in Bristol.
Praise For…
---
Praise for Grey Sister
 
"Vivid worldbuilding and fast-paced action enhance this powerful ­coming-of-age story. Readers who loved Red Sister will find this second series outing even more compelling."—Library Journal (starred review)
 
"Great worldbuilding and dynamic characters...A brilliant fantasy book that is highly recommended for all adult and YA fantasy collections."—Booklist (starred review)
 
"Lawrence's suspenseful account of Nona's efforts to complete her training and gain control over her powers balances action and introspection, and will keep readers hooked."—Publishers Weekly


Praise for Red Sister
 
"Fabulous, in-depth world building, great characters, and as always with Lawrence, plotting that is fresh and unpredictable...If you like fresh, take-no-prisoners fantasy, this is for you."—Rick Riordan, #1 New York Times bestselling author of The Burning Maze

"Dark, passionate, tense, with a female hero anyone could relate to—I was utterly fascinated! This is no pretty, flowery tale, but one of vastly different people struggling to survive when a hostile government comes to power."—Tamora Pierce, #1 New York Times bestselling author of Tempests and Slaughter
 
"The lyrical excellence of previous books is present in full force here, and it's fair to say that Mark Lawrence has evolved into a master of his craft. In Red Sister he has produced a novel that is as thought-provoking as it is entertaining, and as poignant as it is ferocious. Highly recommended."—Anthony Ryan, New York Times bestselling author of The Legion of Flame
 
"Impatient George R. R. Martin fans will find [Red Sister] a pleasing alternative until the next installment in his A Song of Ice and Fire saga arrives."—Library Journal (starred review)