The Job: True Tales from the Life of a New York City Cop (Paperback)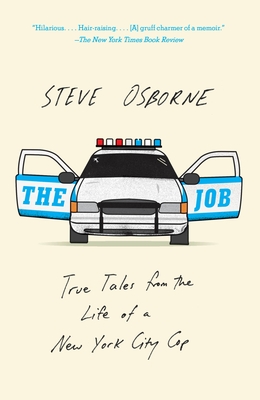 Description
---
"A nice quiet night."

During his two decades on the force, if you asked NYPD officer Steve Osborne how things were going, that's what he'd tell you. On a stakeout? Nice quiet night. Drive by shooting? Nice quiet night. Now, with The Job he's ready to talk, and does he have some stories to tell.

Most civilians get their information about police work from television shows, which are pure fantasy. Here, Osborne takes us into his world, the gritty and not so glamorous life of real street cops. And along the way he finds humor and soul searching humanity in the most unlikely places. For anyone interested in knowing what a cop's life is all about, this is a must read.
About the Author
---
Steve Osborne was a New York City police officer for twenty years, retiring in 2003 as a lieutenant and commanding officer of the Manhattan Gang Squad, with numerous citations for his police work. He has told his stories before packed audiences at The Moth storytelling venues across the United States. He has written for The New York Times and USA Today. Now a consultant for television and film productions, Osborne lives in upstate New York with his wife and their two dogs, Jingles and Duke.
Praise For…
---
"Hilarious. . . . Hair-raising. . . . [A] gruff charmer of a memoir." —The New York Times Book Review

"Osborne is a sly and humorous storyteller." —The New Yorker

"Riveting—like the best night hanging out at a bar with an engaging storyteller." —The Kansas City Star

"Osborne is a born storyteller, and anyone expecting a cop book to be filled with action and adventure won't be disappointed with The Job. But what makes this story so powerful is its compassion and bittersweet comedy." —Edward Conlon, author of Blue Blood

"An enjoyable read. It's real life, and it's told by a gifted storyteller who also happened to be a gifted cop. . . . Osborne writes with passion about his work. . . . For a job that usually deals with the dregs of society, an unlikely strain creeps into Osborne's tales—compassion. Osborne balanced toughness with empathy as he sought to ferret out wrongdoing while on duty." —The Buffalo News

"Nobody tells a cop story better than a cop, and Osborne tells them as well as I've ever heard (and I've heard a lot of them). . . . For every bad cop there are twenty heroic ones—and Steve Osborne was one of them." —Brian McDonald, author of My Father's Gun: One Family, Three Badges, One Hundred Years in the NYPD

"Wonderful. . . . Not only was Osborne an excellent policeman (he retired as a lieutenant and the commanding officer of the Manhattan Gang Squad), he's a fabulous storyteller, crafting his memories into well-honed tales filled with drama, humor and heart." —Bookpage

"[An] engaging memoir. . . . [Osborne's] frank and intimate voice . . . suffuses his prose." —Publishers Weekly

"Raucous recollections. . . . [Osborne] comes off as an avuncular, world-weary tough guy. . . . Yet he elevates his perspective by displaying empathy for the civilians, victims and even criminals he has encountered." —Kirkus

"Cops are innately good storytellers, and Osborne must be one of the best." —Booklist

"Often funny, occasionally sobering and always entertaining." —Shelf-Awareness