The Graveyard Feeder (Paperback)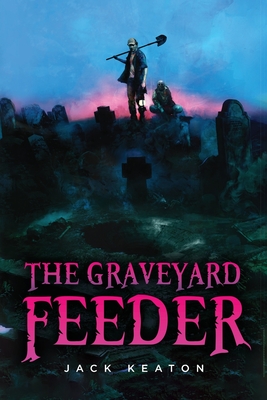 $9.99

OUT OF STOCK - Available to order
Description
---
Jackson Boylen, an elderly man, races through the woods terrified and white as a ghost. He rushes into his home, locking every door. Hearing the basement bulkhead crash open, he quietly sneaks down. Observing his beloved wife Delores, he discovers a terrible secret she's been hiding from him for more than 50 years. This prompts Jackson to do the unthinkable: he brutally lynches her right then and there.
For the crass and lazy gravedigger Burke Sawyer, becoming a hero overnight seems as unlikely as him sobering up. Unfortunately for him, today is not the day to screw things up at the only cemetery in the small town of Juniper Falls. As shady funeral director, Purvis PooKutty, deals with the possibility of being shut down by lawyer Shelly Tate. As he manages Shelly, he passes the responsibility of disposing of Mrs. Boylen's corpse onto Burke. Upon discovering the furnace is broken, Burke forgoes very explicit instructions to burn the corpse and instead places the body into Plot 29 (an open grave). However, this corpse has no intention of staying dead.
As soon as the dead body hits the earth, dirt and soot explode as Mrs. Boylen disappears below, tunneling her way underground. She has become a living necromancer. Stumbling back to his shack black-out drunk, Burke passes out only to be woken hours later by his deceased father's cantankerous ghost, Pop Sawyer. Without a choice, Burke learns that the body he should have cremated is eating its way buffet-style through the corpses beneath the weathered tombstones.
Unless Burke can stop this creature, all the souls (including Pop's) will never rest in peace. It isn't too long before Burke saves his father's corpse, exhuming the old cooter, and hiding the corpse inside the broken furnace much to Pop's vocal dismay. The accidental death of Purvis prompts Burke to take Shelly captive, dragging her to Jackson's home to try and uncover the mystery behind the events unfolding in the cemetery.
Burke and Shelly arrive at Jackson's residence unannounced, demanding answers. Jackson offers them shelter from the coming danger. There He reveals his beloved wife is actually a witch and part of a coven. It isn't long until the coven arrives, seeking answers about their fallen sister. Jackson takes down two witches. However, the remaining three, including the evil Miss Caldwell overpowers them and kills Jackson.
Burke manages to strike a twisted deal: in exchange for the means to defeat Delores, save the souls of the dead, and restore the cemetery, Burke agrees to a deal that costs him more than he bargained for: his heart is ripped from his chest and a curse is set on him causing his flesh to rot.