Better Rags: A Police Officer's Story (Paperback)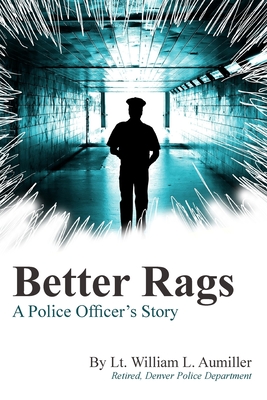 Email or call for price.
OUT OF STOCK - Email or call to order
Description
---
I've had an exciting life, I think-shootings and cuttings and high speed chases-far too many wives and way too little money. Yes, life was exciting when I was a randy young policeman working the mean streets of Denver . . . every day was an adventure Legends in our own minds, each of us share a similar family history . . . people with parents who loved us and taught us the difference between right and wrong, and just like our spouses, feared for our safety every day we walked in harm's way. Not really the Superman little kids see us as or the Stormtroopers far too many people choose to believe we are, but ordinary people just trying to do the right thing. So, this is my story. Told from a police officer's cynical yet humorous point of view, it's a warm and loving family history, rich with snippets of family lore and detailed memories that began well before the blood and gore of the police world, and continuing into the safety and comfort of my retirement years. It's proof that you don't have to be shot in order to have a story worth telling.
Reader Reviews: One of the most entertaining autobiography's ever written - get ready to laugh and be totally engaged through to the end of the book
- Sharon Riek, Palm Harbor, Florida I read it in about three days involving two late nights and found it highly pleasurable from beginning to end.
- Dr. Gordon Farley, Psychiatry, Denver, Colorado I enjoyed Bill's book from start to finish After only one chapter, I was hooked on his writing style.
- Tammy Esslinger-Lehman, CPA, Principal, UtiliBiz Solutions, Crowley, Texas Told in great detail, with humor, this is the truth and reality of life; an entertaining and interesting read.
- Sergeant Jim Lindsey, Retired, DPD A fascinating read
- Captain Steve Metros, Retired, DPD.
About the Author
---
I have no false illusions about who I am. I'm an ordinary man from an ordinary family. I've never known fame and fortune, and they've definitely never known my name. But I'm a fair and honest retired Denver Police Lieutenant, who after nearly five of the most rewarding years of my life, finally finished the book John Travolta once encouraged someone in every family to write. As a Denver native and retired police commander, I'm able to recount buildings and businesses in and about the old parts of the city that have long since been reduced to rubble, share information about the city's long history that most Denverites have either forgotten or never knew about, and offer an insider's view of the inherent strengths and weaknesses of the Denver Police Department, an insight particularly relevant given the woes that have plagued our department in recent months.