You Want WHAT: Concierge Tales from the Men and Women Who Make Las Vegas Dream Come True (Paperback)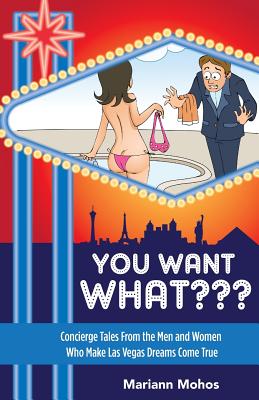 Email or call for price.
OUT OF STOCK - Email or call to order
Description
---
Ding ... Every time the bell rings at a concierge's desk, you never know the story that will follow... especially in Las Vegas, City of Sin. Will a request be awkward and embarrassing or sweet and lighthearted? A concierge never knows until the... ding. "You Want WHAT " is a lighthearted glimpse into the lives of dozens of Las Vegas concierges. This collection of true stories range from sweet to sad to downright outrageous. Don't worry, we don't name names or get too explicit... what happens in Vegas, stays in Vegas. For the most part, anyway.: ) "What stands out about this book and its collection of true stories told in the voice of various Las Vegas concierge is the complete lack of sarcasm. It's humorous and witty without having to resort to putting people down for their lack of knowledge or odd requests. It's that good-natured, upbeat, even professional approach to presenting these stories that make this book so likable." Yiftach "You Want WHAT " entertainingly showcases Vegas concierges at their finest. In Las Vegas we make dreams come true." Oscar Goodman, former Las Vegas Mayor This is the perfect gift for friends and family who love Vegas, or for someone considering vacationing there. Order today and take a journey through the concierge's life on the Strip.
About the Author
---
When Hungarian native Mariann Mohos relocated to Las Vegas to pursue a Masters degree in Business Administration, she never imagined that she would one day also become one of the people who are integral to creating memorable experiences for the millions of guests visiting this spectacular and magical city each year. For the past four years, Mohos has worked as a concierge at one of the major hotel and casino resorts in Las Vegas, where she has established herself as a trusted part of the concierge community. Always fascinated by the inner workings of the hospitality industry, she has taken the opportunity to meet people from all walks of life, while still having ample time to pursue her own interests. With a command of four different languages, wide-ranging business experience in Europe and the US, and an outgoing personality, Mohos has found that serving as a concierge comes second nature to her. Along with her love of Las Vegas, Mohos has an immense passion for learning and adore languages, traveling, the outdoors, and exploring different cultures. In addition to her MBA from the University Of Nevada, Las Vegas, she has degrees in English and Russian studies and Economics. Mohos founded and operated a grassroots marketing company for a number of years prior to beginning her career as a Las Vegas concierge.