Tahoe Rim Trail: The Official Guide for Hikers, Mountain Bikers, and Equestrians (Paperback)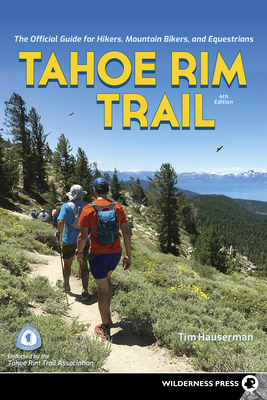 $19.95

IN STOCK - On our shelves now
Description
---
Experience the Unparalleled Beauty of Lake Tahoe and Its Trail
The Tahoe Rim Trail is a recreational paradise, taking hikers, mountain bikers, and equestrians through three wilderness areas, as well as national forests and state park lands. It provides access to an incredible diversity of geology, flora, and fauna--and, of course, miles of unbeatable views of the area along the border of California and Nevada.
The most important part of your trip is planning it. Author Tim Hauserman first hiked the complete Tahoe Rim Trail in 1999 and has since circumnavigated it three times. Put his expertise to use. Get the most from your time on the trail, and safely traverse a landscape rich in history and alive with nature. Tahoe Rim Trail presents the entire 165-mile trail (and dozens of side trips), divided into 8 sections.
The new edition features:

Updated maps and trail descriptions
Information on difficulty, trail highlights, driving directions, and more
Dozens of side trips and historical highlights
Descriptions of the flora and fauna you will see
Hundreds of tips for planning your excursion, whether it's a day hike or a backpacking adventure
Specific guidance for mountain bikers, equestrians, and anglers
Get the definitive resource for Lake Tahoe's crown jewel; it's endorsed by the Tahoe Rim Trail Association.
About the Author
---
Tim Hauserman has been a resident of North Lake Tahoe since 1960. He has hiked and biked in the area for many years and has been a guide for Tahoe Trips and Trails (a private excursion company) and the Tahoe Rim Trail Association. A member of the Tahoe Rim Trail Board of Directors from 1998 to 2007, he became the 11th member of the Tahoe Rim Trail 165 Mile Club in 1999. His other books include Monsters in the Woods: Backpacking with Children, Gertrude's Tahoe Adventure's in Time (a children's book), and Cross- Country Skiing in the Sierra Nevada. He also writes for a variety of local and regional publications. Tim lives on the west shore of Lake Tahoe, where he likes to hike, bike, cross-country ski, kayak, and canoe.