From Lands of the Night (Hardcover)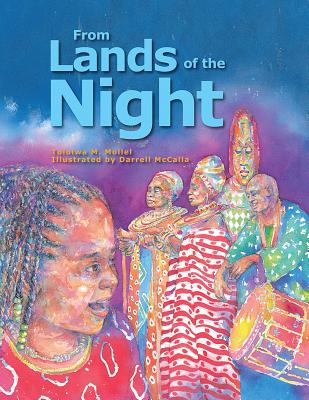 $18.95
Email or call for price.
Description
---
In this story, the young girl Ra-Eli watches as her family agonizes over the illness of her baby brother Samson. When they approach a healer, the answer comes: Hold a ceremony to honor your ancestors and ask them to help, a joyful ceremony filled with guests. Joyful? my mother said. How can we be joyful at a time like this? A joyful ceremony it must be, replied the healer. Nothing less will bring the ancestors from their lands of the night. Let's seek joy in hope.
And there follows one of those magical sequences that are found in the traditional tales of East Africa, where Tololwa comes from. First, neighbours and friends come to the event -- then angels and finally Mola -- God. Music and dancing ensue, and when the exhausted Ra-Eli wakes, Mola hands the now recovered baby to his joyful mother.
This story is a true testament to the power of ceremony and music and the honouring of ancestors who come, from the lands of the night.
About the Author
---
Tololwa Mollel is a children's author, dramatist and storyteller. He grew up in Arusha Tanzania at the times when oral tradition was still alive and well. Tololwa has written over sixteen books using traditional folklore as their basis. He has worked as an actor and university theatre instructor in Tanzania and Canada, and as a writer-in-residence for the Edmonton Public Library. His books include award-winning titles such as Orphan Boy, Rhinos for Lunch and Elephants for Supper!, Big Boy, and My Rows and Piles of Coins. His books have been translated into various South African languages and into Korean. He lives in Edmonton, Alberta. Graphic designer and artist Darrell McCalla grew up in Jamaica, resulting in his use of a vibrant Caribbean-influenced palette of colors. A past graduate of the Leeds College of Art, Yorkshire, England, McCalla works in acrylics and watercolors and now calls Mississauga, Ontario home. His works can be found in private collections throughout Canada, USA and Jamaica.