Wyeth People (Paperback)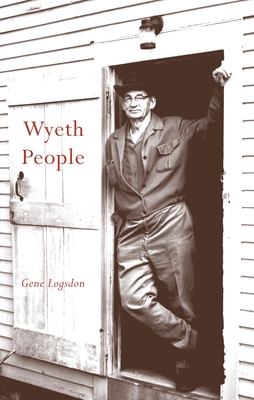 $16.95
Email or call for price.
Description
---
Wyeth People is the story of one writer's search for the meaning of artistic creativity, approached from personal contact with the work of one of the world's great artists, Andrew Wyeth.
In the 1960s, just beginning his career as a writer, Gene Logsdon read a magazine article about Andrew Wyeth in which the artist commented at length on his own creative impulse. What he said seemed so true and right and so directly applicable to writing as well as to painting that the young writer was transfixed.
He was resolved to talk to Andrew Wyeth, even though warned that the artist could be as elusive as a wild rabbit. Not quite by accident, the writer and the painter met in a roadside diner, and what happened from then on is what Wyeth People is about-an effort to explain a famous artist, his work, and the people who love it, by an intrigued outsider.
Wyeth People is the result of Gene Logsdon's search to find the colorful people Wyeth painted and to interview them. Originally published in 1969, Wyeth People describes how the author solved the mystery of the creative impulse, at least to his own satisfaction. It is reprinted here in paperback for the first time.
As Logsdon writes: "The story of my search for why I (and millions of other people) find Wyeth's art among the greatest that human culture has produced, is ongoing. I may never fully end my quest. But this I know. I was lucky enough to have participated in some small way in the cultural process by which an artist and his work became a classic part of American tradition.
That I was able to talk to people like Karl Kuerner and Forrest Wall produced in me the same kind of knowledge and exhilaration that I would gain if I were viewing Michelangelo's David and David came alive and spoke to me."
Swallow Press welcomes the opportunity to bring this remarkable book back into print.
About the Author
---
Gene Logsdon (1931–2016) was the author of more than thirty books and countless magazine articles on agrarian issues including small-scale farming and sustainable living. He is the author of four Swallow Press/Ohio University Press books: All Flesh Is Grass: The Pleasures and Promises of Pasture Farming, The Man Who Created Paradise: A Fable, Wyeth People, and The Last of the Husbandmen: A Novel of Farming Life.
Praise For…
---
"Public and academic collections alike will want this gem."—Library Journal

"Logsdon's writing is surprisingly polished…. The people are alive and you know them; the scenes are just the other side of your windowsill."—Linda C. Hammond, Courier Post, Camden, N.J.