The Great Fatsby (Paperback)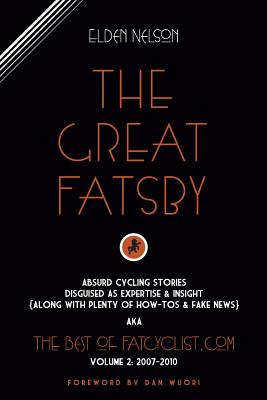 Email or call for price.
OUT OF STOCK - Email or call to order
Description
---
The Great Fatsby: The Best of FatCyclist.com, Volume 2 is almost exactly like its namesake, The Great Gatsby. For example, The Great Gatsby is a fictional, poignant account of a young millionaire obsessed witha beautiful debutatne in 1922. The Great Fatsby, on the other hand, is an occasionally-true, wildly exaggerated collection of absurd and allegedly hilarious stories from a middle-aged blogger obsessed with bicycles. See? Same thing, more or less. In this book, you will discover How Fatty ruined two business suits in one second. You will read a story about a plush novelty toy flower, a serial killer, and the dangers of two much caffeine when in a remote area. You will learn the proper way to suck in your gut at a moment's notice. You will even learn how to talk, when tragically necessary, to non-cyclists. And that's just for starters. Taken from what many people consider the Jazz Age of FatCyclist.com, The Great Fatsby is like spending many quality hours with Fatty himself, instead of having to read his blog for four years, waiting for him to occasionally write something readable. Plus, the good bits have now been explained, annotated and otherwise polished to the point where they now actually make sense. In short, The Great Fatsby, more than any other book in the world, belongs on the back of every cyclist's toilet.
About the Author
---
Elden Nelson is the author of the award-winning fatcyclist.com blog