Welcome to Word After Word Books!
The Botany of Desire Young Readers Edition: Our Surprising Relationship with Plants (Hardcover)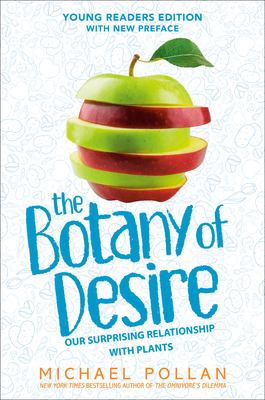 Description
---
By the bestselling author of The Omnivore's Dilemma, this is Michael Pollan's ingenious companion book about the surprising and close relationship between people and plants.
In this entertaining young readers edition of the environmental studies classic, Michael Pollan demonstrates how people and domesticated plants have formed a reciprocal relationship. He links four fundamental human desires—sweetness, beauty, energy, and control—with the plants that satisfy them: the apple, the tulip, coffee, and the potato. In telling the stories of four familiar species, Pollan illustrates how the plants have evolved to satisfy humankind's most basic yearnings. And just as we've benefited from these plants, we have also helped
them
to thrive.
The Botany of Desire
is perfect for STEM-focused young readers who want to learn more about:
human history, biology, and environmentalism
climate change and its impact on our relationship with plants
gardening and the human-plant relationship
About the Author
---
For more than thirty years, Michael Pollan has been writing about the places where the human and natural worlds intersect. In addition to magazine and newspaper writing, including regular contributions to the New York Times Magazine, he is the author of nine books, seven of which have been New York Times bestsellers. He has received numerous awards, including two James Beard Awards, the John Burroughs Prize, the U.S. Humane Society's Genesis Award, and the Lennon Ono Grant for Peace. In 2009 he was named one of the top 10 "New Thought Leaders" by Newsweek, and in 2010 he was chosen by Time as one of the 100 most influential people in the world. Michael Pollan grew up on Long Island, New York, was educated at Bennington College, Oxford University, and Columbia University, and teaches journalism and nonfiction writing at UC Berkeley and Harvard. He lives in the San Francisco Bay Area with his wife, the painter Judith Belzer.
Praise For…
---
"Pollan's friendly, conversational tone and first-person recollections bring levity and enthusiasm; his sharp wit and self-awareness give much-needed life to what would otherwise have been more esoteric and dryly scientific sections. Pollan's passion for his subject is evident and infectious as he encourages readers to psychologically reconnect with nature . . . those who are drawn to it will find a wealth of information and food for thought. A fascinating and accessible adaptation for science-minded or history-obsessed youngsters." —Kirkus