Thanks for Waiting: The Joy (& Weirdness) of Being a Late Bloomer (Hardcover)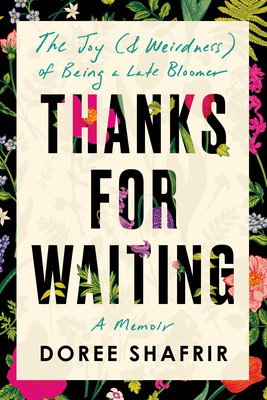 $27.00
Coming Soon - Pre-Order Now!
Description
---
An honest, witty, and insightful memoir about what happens when your coming-of-age comes later than expected, from the co-host of the hit podcast Forever35.

Doree Shafrir was one of Gawker's early hires and one of the first editors at BuzzFeed; at both sites, she authored countless viral articles. Just before she turned forty, she published her first novel, and one year later, she quit her journalism career and co-launched Forever35, a wildly successful self-care podcast.

Despite all of her success, Doree thinks of herself as a late bloomer, often out of sync with her various cohorts. She was the Gen Xer at the tech startup who refused to wear the unicorn onesie. She met her husband on Tinder in her late thirties, after many of her friends had already gotten married, started families, and entered couples' counseling. After a long fertility struggle, she is now a first-time mom on the other side of forty. Ditto starting her own small business.

Now, in her debut memoir, Doree explores the enormous pressures we feel, especially as women, to hit certain milestones at certain times and how we can redefine what it means to be a late bloomer. She writes about everything from dating to infertility, to how friendships evolve as you get older, to why being pregnant at forty-one is unexpectedly freeing--all with the goal of appreciating the lives we've lived so far and the lives we still hope to live.

Thanks for Waiting is about how achieving the milestones you thought were so important don't always happen on the timeline you imagined. In a world of 30 Under 30 lists, this book is a welcome reminder that it's okay to live life at your own speed.
About the Author
---
Doree Shafrir is the author of the novel Startup and the co-host of the podcasts Forever35, a podcast about self-care, and Matt & Doree's Eggcellent Adventure, a podcast about infertility. Doree worked at BuzzFeed News and she has also worked as an editor or staff writer at Rolling Stone, The New York Observer, Gawker, and Philadelphia Weekly. She lives in Los Angeles with her husband, Matt Mira, their son, Henry, and their rescue mutt, Beau.