27 Shades of Green: The True Colors of a Small American Farmer (Paperback)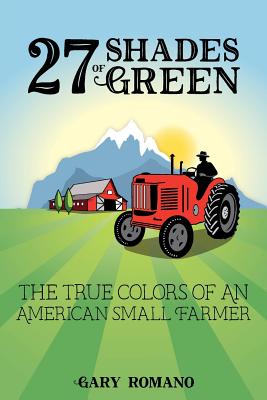 $14.95

IN STOCK - On Our Shelves Now!
Description
---
27 SHADES OF GREEN: The True Colors of an American Small Farmer is a must read for the consumer, foodie, and small farmers alike Third generation organic farmer Gary Romano's experience, wisdom and humor makes this book a fascinating read blending memoirs, insight and facts about the lifestyle of the small farmer and about our food systems. Factory Farms and the conglomerate food giants are monopolizing government regulations and policy in their favor to the detriment of losing our family farms by the thousands ever year. The color shades of green represent the small farmer and Romano cleverly uses different shades of green to depict the mood and the experiences a small farmer goes through on a daily basis. Each chapter is represented by a different shade of green that sets the mood and the feeling that Romano feels as he farms his land. There are many memoirs of his childhood, and transitioning back to farming from a stable occupation with a college degree and the uncertainties that go along with it along his journey. He struggles through financial hardships and going through two divorces and yet is able to save the family farm.
As an aging farmer at 62, Romano reflects on his three generations of farming and his chapters and is delightful, funny and humbling as he looks back at what allowed him to sustain the family farm with the help of his friends, a little luck and now farming into the golden years with his 92 year old father Lou. Lou's inspiration to him and respect now has turned the tide. As a child Lou would tell Gary what to do on the family flower farm and now with Lou living on the farm at 92, Gary is telling Lou what to...it's a fascinating chapter
Farming is hard work and a labor of love and 27 Shades of Green is a delightful journey into a small farmer's life that most people never experience, and allows the reader to understand the importance of supporting our small family farms and how vital they are to our local communities. The reader will understand the challenges small farms face daily with depression, financial hardships, no incentives and for some the loss of their generations of farming or even suicide.
Romano is frank about how big governments is siding with the large corporate farms and agribusiness and that their whole intention is to do away with small family farms and he gives insight on how the small farmers and consumers can save our family farms and replace our aging farmers with new exciting millennial farmers.