Welcome to Word After Word Books!
The Little Paris Bookshop: A Novel (Paperback)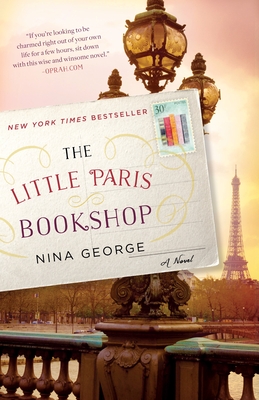 $18.00

OUT OF STOCK - Available to order
July 2015 Indie Next List
---
"Everyone should have access to a 'literary pharmacist' to prescribe the perfect book for what ails them. Bookstore owner Jean Perdu is the victim of a long-ago heartache. While he can cure others, he is unable to quench his own grief. When Perdu's life collides with a reluctant celebrity author, a chef, a neighbor with her own lovelorn past, and an unopened letter, he finds himself on a journey to reawaken his life before it is too late. George's novel is a love song to literature and its curative powers. Launch yourself on a trip with Jean Perdu and company. Reading The Little Paris Bookshop is definitely a journey worth taking."
— Pamela Klinger-Horn (E), Excelsior Bay Books, Excelsior, MN
Description
---
Monsieur Perdu can prescribe the perfect book for a broken heart. But can he fix his own?
 
Monsieur Perdu calls himself a literary apothecary. From his floating bookstore in a barge on the Seine, he prescribes novels for the hardships of life. Using his intuitive feel for the exact book a reader needs, Perdu mends broken hearts and souls. The only person he can't seem to heal through literature is himself; he's still haunted by heartbreak after his great love disappeared. She left him with only a letter, which he has never opened.

After Perdu is finally tempted to read the letter, he hauls anchor and departs on a mission to the south of France, hoping to make peace with his loss and discover the end of the story. Joined by a bestselling but blocked author and a lovelorn Italian chef, Perdu travels along the country's rivers, dispensing his wisdom and his books, showing that the literary world can take the human soul on a journey to heal itself.

Internationally bestselling and filled with warmth and adventure, The Little Paris Bookshop is a love letter to books, meant for anyone who believes in the power of stories to shape people's lives.
About the Author
---
NINA GEORGE works as a journalist, writer, and storytelling teacher. She is the award winning author of 26 books, and also writes feature articles, short stories, and columns. The Little Paris Bookshop spent over a year on bestseller lists in Germany, and was a bestseller in Italy, Poland, and the Netherlands. George is married to the writer Jens J. Kramer and lives in Berlin and in Brittany, France.
Praise For…
---
New York Times Bestseller
A Barnes and Noble Best of 2015 Selection 
A LibraryReads Favorite of the Favorites Selection

"If you're looking to be charmed right out of your own life for a few hours, sit down with this wise and winsome novel...Everything happens just as you want it to... from poignant moments to crystalline insights in exactly the right measure."—Oprah.com

"The settings are ideal for a summer-romance read…Who can resist floating on a barge through France surrounded by books, wine, love, and great conversation?"—Christian Science Monitor

"[A] bona fide international hit."—New York Times Book Review

"Warmhearted...A charming novel that believes in the healing properties of fiction, romance, and a summer in the south of France."—Kirkus

"Engaging... [George's] sumptuous descriptions of both food and literature will leave readers unsure whether to run to the nearest library or the nearest bistro."—Publishers Weekly

"Uplifting... An international best seller, this one will make you happy."—The Independent

"The Little Paris Bookshop is an enchantment. Set in a floating barge along the Seine, this love letter to books - and to the complicated, sometimes broken people who are healed by them - is the next best thing to booking a trip to France."—Sarah Pekkanen, author of Catching Air

"Simultaneously heartbreaking and heartwarming, Nina George's impressionistic prose takes the reader on a journey not just through the glories of France and the wonders of books, but through the encyclopedic panoply of human emotions. The Little Paris Bookshop is a book whose palette, textures, and aromas will draw you in and cradle you in the redemptive power of love."—Charlie Lovett, author of The Bookman's Tale

"Nina George tells us clever things about love, about reading that 'puts a bounce in your step,' about tango in Provence, and about truly good food. . . . One of those books that gets you thinking about whom you need to give it to as a gift even while you're still reading it, because it makes you happy and should be part of any well-stocked apothecary." —Hamburger Morgenpost (Germany)
 
"Enchanting and moving ... Rarely have I read such a beautiful book!"—Tina magazine (Germany)