Word After Word Books and Rock Cellar Records
are located in historic Downtown Truckee.
The Paris Wife: A Novel (CD-Audio)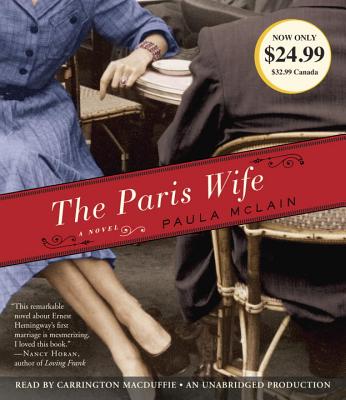 $24.99
Email or call for price.
March 2011 Indie Next List
---
"This beautifully written story captures that electric time, the 1920's in that electric city, Paris, through the eyes of Hadley Hemingway, Ernest Hemingway's first wife. While Hadley reveals the strengths and, ultimately the weaknesses in her complex and fascinating marriage, readers are treated to a novel rich in detail and riddled with real-life characters who fascinate us all."
— Jeanne Regentin, Between the Covers, Harbor Springs, MI
Description
---
A deeply evocative story of ambition and betrayal, The Paris Wife captures a remarkable period of time and a love affair between two unforgettable people: Ernest Hemingway and his wife Hadley.

Chicago, 1920: Hadley Richardson is a quiet twenty-eight-year-old who has all but given up on love and happiness—until she meets Ernest Hemingway and her life changes forever. Following a whirlwind courtship and wedding, the pair set sail for Paris, where they become the golden couple in a lively and volatile group—the fabled "Lost Generation"—that includes Gertrude Stein, Ezra Pound, and F. Scott and Zelda Fitzgerald.

Though deeply in love, the Hemingways are ill prepared for the hard-drinking and fast-living life of Jazz Age Paris, which hardly values traditional notions of family and monogamy. Surrounded by beautiful women and competing egos, Ernest struggles to find the voice that will earn him a place in history, pouring all the richness and intensity of his life with Hadley and their circle of friends into the novel that will become The Sun Also Rises. Hadley, meanwhile, strives to hold on to her sense of self as the demands of life with Ernest grow costly and her roles as wife, friend, and muse become more challenging. Despite their extraordinary bond, they eventually find themselves facing the ultimate crisis of their marriage—a deception that will lead to the unraveling of everything they've fought so hard for.

A heartbreaking portrayal of love and torn loyalty, The Paris Wife is all the more poignant because we know that, in the end, Hemingway wrote that he would rather have died than fallen in love with anyone but Hadley.
About the Author
---
Paula McLain is the New York Times bestselling author of the novels Love and Ruin, Circling the Sun, The Paris Wife, and A Ticket to Ride, the memoir Like Family: Growing Up in Other People's Houses, and two collections of poetry. Her writing has appeared in The New York Times, Good Housekeeping, O: The Oprah Magazine, Town & Country, The Guardian, The Huffington Post, and elsewhere. She lives in Ohio with her family.
Praise For…
---
"McLain smartly explores Hadley's ambivalence about her role as supportive wife to a budding genius.... Women and book groups are going to eat up this novel." —USA Today

"By making the ordinary come to life, McLain has written a beautiful portrait of being in Paris in the glittering 1920s — as a wife and one's own woman.... McLain's vivid, clear-voiced novel is a conjecture, an act of imaginary autobiography on the part of the author. Yet her biographical and geographical research is so deep, and her empathy for the real Hadley Richardson so forthright (without being intrusively femme partisan), that the account reads as very real indeed." —Entertainment Weekly

"Written much in the style of Nancy Horan's Loving Frank ... Paula McLain's fictional account of Hemingway's first marriage beautifully captures the sense of despair and faint hope that pervaded the era and their marriage." —Associated Press

"Lyrical and exhilarating . . . McLain offers a raw and fresh look at the prolific Hemingway. In this mesmerizing and helluva-good-time novel, McLain inhabits Richardson's voice and guides us from Chicago—Richardson and Hemingway's initial stomping ground—to the place where their life together really begins: Paris." —Elle

"McLain's vivid account of the couple's love affair and expat adventures will leave you feeling sad yet dazzled." —Parade

"Told in the voice of Ernest Hemingway's first wife, The Paris Wife, by Paula McLain, is a richly imagined portrait of bohemian 1920s Paris, and of America literature's original bad boy." —Town & Country

"Novelist and memoirist Paula McLain traces the life of Hadley Hemingway, first wife of Ernest Hemingway, in this evocative novel set largely in Paris in the Jazz Age." —Christian Science Monitor

"McLain's novel not only gives Hadley a voice, but one that seems authentic and admirable.... A certain amount of bravery is required in writing a novel that channels a giant of American literature. Yet McLain pulls it off convincingly, conveying Hemingway's interior life and his profound struggles. She makes a compelling case that Hadley was a crucial (and long-lasting) influence on Hemingway's writing life: a partner as well as a cheerleader. She also revisits, with remarkable detail, a singular era in history, one that would produce some of the greatest literary works of the 20th century." —Newsday

"Engrossing and heartbreaking.... McLain is masterful at mining Hadley's confusion and pain, her crushing realization that she cannot fight for a love that has already disappeared." —Cleveland Plain Dealer

"A well-crafted novel ... Paula McLain is a master at creating narratives that are so lively, they seem to leap from the printed page." —Tucson Citizen

"One of the most important books of this year. McLain is a novelist to watch." —Naples Daily News

"The Paris Wife is mesmerizing. Hadley Hemingway's voice, lean and lyrical, kept me in my seat, unable to take my eyes and ears away from these young lovers.  Paula McLain is a first-rate writer who creates a world you don't want to leave. I loved this book."  —Nancy Horan, New York Times bestselling author of Loving Frank

"After nearly a century, there is a reason that the Lost Generation and Paris in the 1920's still fascinate.   It was a unique intersection of time and place, people and inspiration, romance and intrigue, betrayal and tragedy.   The Paris Wife brings that era to life through the eyes of Hadley Richardson Hemingway, who steps out of the shadows as the first wife of Ernest, and into the reader's mind, as beautiful and as luminous as those extraordinary days in Paris after the Great War."   —Mary Chapin Carpenter, singer and songwriter

"Despite all that has been written about Hemingway by others and by the man himself, the magic of The Paris Wife is that this Hemingway and this Paris, as imagined by Paula McLain, ring so true I felt as if I was eavesdropping on something new. As seen by the sure and steady eye of his first wife, Hadley, here is the spectacle of the man becoming the legend set against the bright jazzed heat of Paris in the 20s. As much about life and how we try and catch it as it is about love even as it vanishes, this is an utterly absorbing novel." —Sarah Blake, New York Times bestselling author of The Postmistress

"McLain offers a vivid addition to the complex-woman-behind-the-legendary-man genre, bringing Ernest Hemingway and his first wife, Hadley Richardson, to life.... The heart of the story--Ernest and Hadley's relationship--gets an honest reckoning, most notably the waves of elation and despair that pull them apart." —Publishers Weekly