The Book of Taltos (Jhereg #2) (Paperback)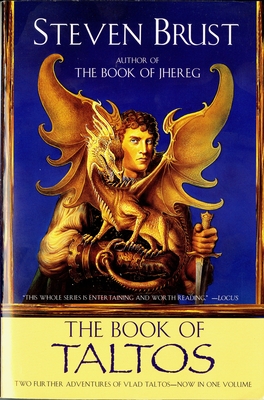 Other Books in Series
This is book number 2 in the Jhereg series.
Description
---
Steven Brust's first three novels featuring assassin Vlad Taltos and his jhereg companion were collected in one volume as
The Book of Jhereg. The Book of Taltos
continues the adventure with books four and five in the series
—Taltos and Phoenix.
Vlad Taltos is an assassin unlike no other. Not only is he quick with a sword, but he also possesses a gift for witchcraft conjuring. The latest addition to his already formidable arsenal is a leathery-winged jhereg who shares a telepathic link with Vlad—making him twice as deadly…
The adventures chronicled in Taltos and Phoenix find Vlad accepting a job in the Land of the Dead, but a living human being cannot walk the paths of the dead and return, alive, to the land of men. Fortunately (or unfortunately, depending on your point of view), the Demon Goddess is willing to rescue him—if Vlad is willing to grant her a favor in return…
About the Author
---
Steven Brust is the author of numerous fantasy novels, including Jhereg, Yendi, Teckla, and Orca. He lives in Minneapolis.
Praise For…
---
"Steven Brust isn't afraid to stretch the boundaries of contemporary commercial fantasy."
—Newsday
"A memorable fantasy world, to which it is always a pleasure to return." —Locus
"Lightning-paced…enjoyable." —OtherRealms
"Fast-paced, exciting sword and sorcery." —VOYA
"Involving, captivating…highly recommended." —The Midwest Book Review
"Engaging…written with a light touch…good stuff." —Publishers Weekly